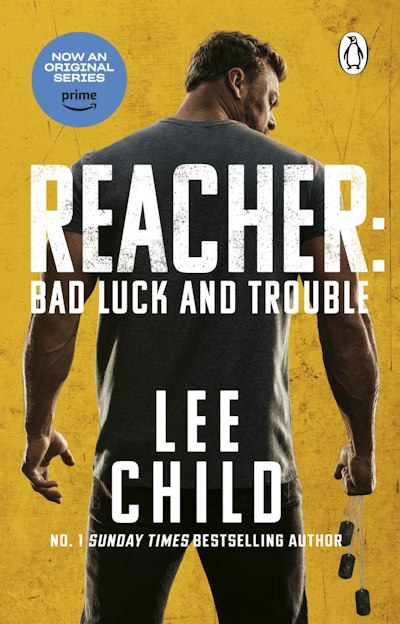 Published:

1 May 2010

ISBN:

9781407037547

Imprint:

Transworld Digital

Format:

EBook

Pages:

544
Bad Luck And Trouble
(Jack Reacher 11)
---
---
---
You do not mess with Reacher, in Lee Child's irresistible number one bestseller.
"The invincible Reacher is as irresistible as ever." (Sunday Telegraph)
You do not mess with Jack Reacher.
He is as close to untraceable as a person can get. A loner comfortable in his anonymity and solitude. So when a member of his old Army unit finds a way to contact him, he knows this has to be serious.
You do not mess with the Special Investigators.
In the past the elite team always watched each other's backs. Now one of them has shown up dead in the California desert and six more are missing.
Reacher's old buddies are in big trouble, and he can't let that go.
_________
Although the Jack Reacher novels can be read in any order, Bad Luck and Trouble is the 11th in the series.
And be sure not to miss Reacher's newest adventure, no.26, Better off Dead! ***COMING SOON and AVAILABLE FOR PRE-ORDER NOW***
Published:

1 May 2010

ISBN:

9781407037547

Imprint:

Transworld Digital

Format:

EBook

Pages:

544
Praise for Bad Luck And Trouble
One of the truly memorable tough-guy heroes in recent fiction.
Jack Reacher has the manliness of John Wayne, the coping skills of Jack Bauer, the fieldcraft of John Rambo and the coolness of Dirty Harry.

Sunday Times
[Reacher] has long since gained mythical status...storytelling of the highest order: lean, laconic, laced with tension.

Evening Standard
Reacher is one of those characters who is admired by his male readers and lusted after by his female ones in equal measure . . . Child's tough-as-nails protagonist has become one of the most appealing of contemporary heroes.

Daily Express
Almost overnight, British author Lee Child created one of the world's most enduring and popular fiction characters in Jack Reacher . . . Child is a great storyteller . . . the reader never feels conned . . . Another sure-fire hit.

Daily Mirror
Forget the A-team. If you're in a fix, and you want help, you need Jack Reacher....the twists come thick and fast, the false trails are cleverly laid and the surprise developments are genuinely unexpected...Child, as always, delivers.

Yorkshire Evening Post
Perhaps there are action-lit writers more recognizable than Child, but the bet is that none of them will turn in a tighter-plotted, richer-peopled, faster-paced page-turner this year.

Kirkus - starred review
As always, the action is intense, the pace unrelenting, and the violence unforgiving. Child remains the reigning master at combining breakneck yet brilliantly constructed plotting with characters who continually surprise us with their depth.

Booklist - starred review
The invicible Reacher is as irresistible as ever.

Sunday Telegraph