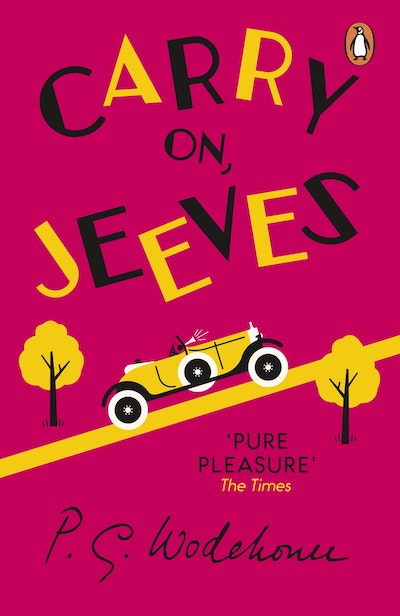 Published:

1 September 2010

ISBN:

9781409035015

Imprint:

Cornerstone Digital

Format:

EBook

Pages:

288
Carry On, Jeeves
(Jeeves & Wooster)
---
---
---
A classic collection of Jeeves and Wooster stories from P.G. Wodehouse, the great comic writer of the 20th century
Featured in The Sunday Times Great Audiobooks list
'What a very, very lucky person you are. Spread out before you are the finest and funniest words from the finest and funniest writer the past century ever knew' Stephen Fry
_____________________________________
'I expect I shall feel better after tea.'
A collection of ten uproarious short stories. From the moment Jeeves cures Bertie of a raging hangover with his own concoction of Worcestershire sauce and tomato juice, they become steadfast partners.
Whether it is fixing a plan-gone-wrong, or solving his friends' love lives, Jeeves is Bertie's unfaltering aide through a series of accidental - and self-imposed - misadventures.
_____________________________________
'The incomparable and tireless genius - perfect for readers of all ages, shapes and sizes!' Kate Mosse
Published:

1 September 2010

ISBN:

9781409035015

Imprint:

Cornerstone Digital

Format:

EBook

Pages:

288
Praise for Carry On, Jeeves
The ultimate in comfort reading

Marian Keyes
A grown-up book - but not that grown-up

Katy Guest
To have one of his books in your hand is to possess by way of a pill that can relieve anxiety, rageiness, or an afternoon-long tendency towards the sour. Paper has rarely been put to better use than printing Wodehouse.

Caitlin Moran
Not only the funniest English novelist who ever wrote but one of our finest stylists. His world is perfect, his writing is perfect. What more is there to be said?

Susan Hill
P. G. Wodehouse is the gold standard of English wit.

Christopher Hitchens
An incomparable and timeless genius.

Kate Mosse
P. G. Wodehouse should be prescribed to treat depression. Cheaper, more effective than valium and far, far more addictive.

Olivia Williams
P.G. Wodehouse remains the greatest chronicler of a certain kind of Englishness, that no one else has ever captured quite so sharply or with quite so much wit and affection.

Julian Fellowes
Wodehouse is a comic master.

David Walliams
For as long as I'm immersed in a P. G. Wodehouse book, it's possible to keep the real world at bay and live in a far, far nicer, funnier one where happy endings are the order of the day.

Marian Keyes
I'm a huge fan. Wodehouse writes proper jokes.

Jennifer Saunders
To dive into a Wodehouse novel is to swim in some of the most elegantly turned phrases in the English language.

Ben Schott
I am a huge fan

Jennifer Saunders
If we're talking about culture that makes people happy, we have to start with the works of P.G. Wodehouse

BBC Culture
Pure pleasure

The Times
An incomparable and timeless genius.

Kate Mosse
For as long as I'm immersed in a P. G. Wodehouse book, it's possible to keep the real world at bay and live in a far, far nicer, funnier one where happy endings are the order of the day.

Marian Keyes
I'm a huge fan. Wodehouse writes proper jokes.

Jennifer Saunders
Not only the funniest English novelist who ever wrote but one of our finest stylists. His world is perfect, his writing is perfect. What more is there to be said?

Susan Hill
P. G. Wodehouse is the gold standard of English wit.

Christopher Hitchens
P. G. Wodehouse should be prescribed to treat depression. Cheaper, more effective than valium and far, far more addictive.

Olivia Williams
P.G. Wodehouse remains the greatest chronicler of a certain kind of Englishness, that no one else has ever captured quite so sharply or with quite so much wit and affection.

Julian Fellowes
To dive into a Wodehouse novel is to swim in some of the most elegantly turned phrases in the English language.

Ben Schott
To have one of his books in your hand is to possess by way of a pill that can relieve anxiety, rageiness, or an afternoon-long tendency towards the sour. Paper has rarely been put to better use than printing Wodehouse.

Caitlin Moran
Wodehouse is a comic master.

David Walliams