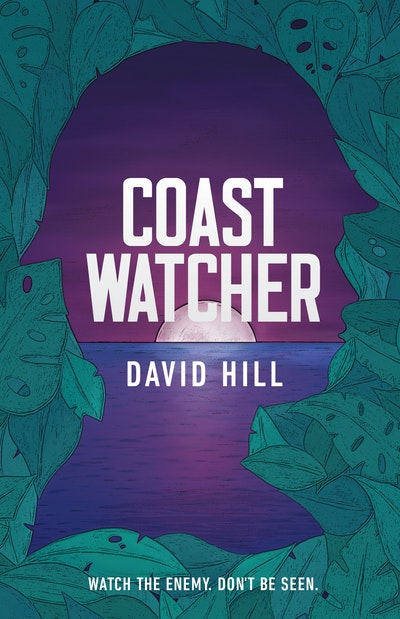 Published:

3 August 2021

ISBN:

9780143775966

Imprint:

Puffin

Format:

Paperback

Pages:

272

RRP:

$19.99
Coastwatcher
---
---
---
No training could have prepared Frank for a dangerous coastwatching mission against the Japanese in this WWII novel by David Hill, winner of the 2021 Prime Minister's Award for Fiction
A tense, exciting war adventure inspired by the coastwatchers of Operation Pacific, from award-winning YA author David Hill.
'It's not going to be a cushy job, young Benson. You're on your own. Japs will be looking for you. Far as they're concerned, you're spies. And when a spy gets captured, remember . . .'
It's 1943, and 19-year-old radio operator Frank Benson is shipped out to an enemy-occupied island in the Solomons with two other soldiers. Their mission is to spy on the Japanese.
In dense jungle they meet a Solomon Islander who says he has information that will shatter Japanese defences. But he could be working for the enemy. What if it's a trap to get them killed?
No training could have prepared Frank for this decision. Their lives - and Operation Pacific - depend on his next move.
Published:

3 August 2021

ISBN:

9780143775966

Imprint:

Puffin

Format:

Paperback

Pages:

272

RRP:

$19.99
Hill knows how to draw young readers in and keep them on the edge of their seats...it will delight teens looking for a bit of action.

Linda Thompson, Rotorua Daily Post
Coastwatcher was unpredictable, with high action excitement that continued throughout the book, making it a real page-turner. I didn't put it down, instead staying up far too late reading it all in one go! If you are interested in World War II, history or the Pacific, I recommend you read this book, as you won't be disappointed.

Daniel Lovewell, 12 years, Hooked On NZ Books
I am always confident when I pick up a novel by David Hill that I am in safe hands and Coastwatcher is no exception. Hill's writing is, as always, well-crafted with a good pace and authentic feel. And the story is a cracker...Frank must face some major challenges and be the person he will have to live with for the rest of his life. Can he square his soldiering ambitions with his own compassionate nature and how will the consequences of his actions play out? There are plenty of important issues raised here which will give young readers much to think about. Did Frank do the right thing? Does war justify changing who we are inside? ...This is a great read.

Melinda Szymanik, Kids Books NZ
Hill's storytelling in Coastwatcher is fresh, honest, and descriptive...Fiery metal and saltwater are intertwined with timeless themes of friendship, trust, sacrifice, and hope.

Azariah Alfante, NZ Booklovers
Article
Real Readers Review: Coastwatcher
Looking for your kid's next great read? Let our Puffin Ambassadors tell you why you should pick up Coastwatcher, a thrilling adventure novel for 9+ readers.
Teachers' notes