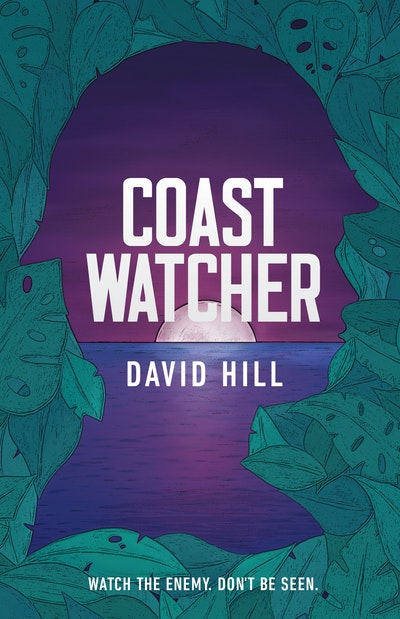 Published:

3 August 2021

ISBN:

9780143775966

Imprint:

Puffin

Format:

Paperback

Pages:

272

RRP:

$19.99
Coastwatcher
---
---
---
No training could have prepared Frank for a dangerous coastwatching mission against the Japanese in this WWII novel by David Hill, winner of the 2021 Prime Minister's Award for Fiction
A tense, exciting war adventure inspired by the coastwatchers of Operation Pacific, from award-winning YA author David Hill.
'It's not going to be a cushy job, young Benson. You're on your own. Japs will be looking for you. Far as they're concerned, you're spies. And when a spy gets captured, remember . . .'
It's 1943, and 19-year-old radio operator Frank Benson is shipped out to an enemy-occupied island in the Solomons with two other soldiers. Their mission is to spy on the Japanese.
In dense jungle they meet a Solomon Islander who says he has information that will shatter Japanese defences. But he could be working for the enemy. What if it's a trap to get them killed?
No training could have prepared Frank for this decision. Their lives - and Operation Pacific - depend on his next move.
Published:

3 August 2021

ISBN:

9780143775966

Imprint:

Puffin

Format:

Paperback

Pages:

272

RRP:

$19.99
Hill's storytelling in Coastwatcher is fresh, honest, and descriptive. Although they are fictional, Frank, Willy, and Les are skilfully portrayed, reminding us that soldiers are also humans with their own quirks, concerns, jokes, desires, and regrets. The Solomon Islanders are depicted as individuals with hardships, dreams, and sheer determination to survive under Japanese occupation and the presence of Allied troops. Hill emphasises the bleak uncertainty of war, particularly from the perspectives of inexperienced, foreign soldiers. Fiery metal and saltwater are intertwined with timeless themes of friendship, trust, sacrifice, and hope. Coastwatchers not only tells a story but encourages readers to learn about the pasts and peoples of the Pacific. The book's appendices comprise a helpful glossary and beginner's guide to Morse Code, often used by signallers during the World Wars. Written in an informative and enthused manner, this novel would appeal to young readers and fans of historical fiction and military studies. In fact, for those interested in learning about New Zealand and Pacific history, Hill's Coastwatchers would be an excellent starting point.

Azariah Alfante, NZ Booklovers
I found that Coastwatcher was unpredictable, with high action excitement that continued throughout the book, making it a real page-turner. I didn't put it down, instead staying up far too late reading it all in one go! If you are interested in World War II, history or the Pacific, I recommend you read this book, as you won't be disappointed.

Daniel Lovewell, 12 years, Hooked On NZ Books
Article
Real Readers Review: Coastwatcher
Looking for your kid's next great read? Let our Puffin Ambassadors tell you why you should pick up Coastwatcher, a thrilling adventure novel for 9+ readers.
Teachers' notes