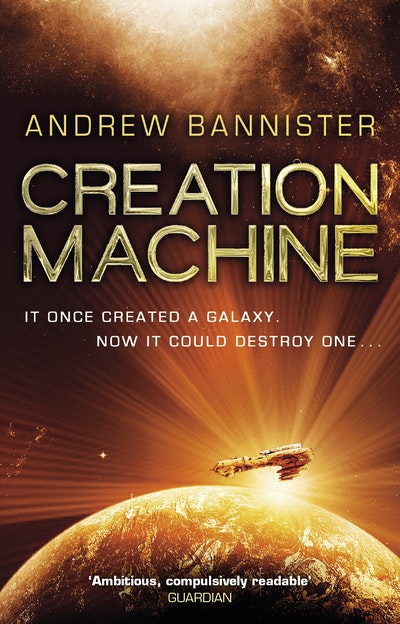 Published:

15 May 2017

ISBN:

9780857503350

Imprint:

Bantam

Format:

Paperback

Pages:

352

RRP:

$26.00
Creation Machine
(The Spin Trilogy 1)
---
---
---
For readers of Peter F. Hamilton, Alastair Reynolds and Iain M. Banks, CREATION MACHINE is the stunning first instalment in an SF sequence - The Spin trilogy - within an artificial planetary cluster with a turbulent past and an even more violent present . . .
It is the aftermath of civil war in the vast pageant of planets and stars known as The Spin. Three years since he crushed the rebellion, Viklun Haas, industrialist and leader of the Hegemony, is eliminating all remnants of the opposition. Starting with his own daughter.
But Fleare Haas, fighter for Society Otherwise has had a long time to plan her next move. Sprung from her remote monastery prison and reuniting with a team of loyal friends, Fleare's journey will take her across The Spin to the cluster of fallen planets known as the The Catastrophe Curve - and from exile, to the very frontiers of war.
Meanwhile, in the brutal and despotic empire of The Fortunate, word is reaching viceroy Alameche of a most unusual piece of plunder from their latest invasion. For hundreds of millions of years, the bizarre planets and stars of The Spin itself have been the only testament to the god-like engineers that created it. Now, buried in the earth of a ruined planet, one of their machines has been found . . .
Published:

15 May 2017

ISBN:

9780857503350

Imprint:

Bantam

Format:

Paperback

Pages:

352

RRP:

$26.00
Praise for Creation Machine
Debut novelist Andrew Bannister comes to the genre with his talents fully formed in the ambitious, compulsively readable Creation Machine . . . [it] has everything: intriguing far-future societies, exotic extra-terrestrial races, artificial galaxies and alien machines dormant for millions of years. Bannister holds it all together with enviable aplomb.

Eric Brown, GUARDIAN
Balancing bursts of action with expansive world-building, immersive prose and sharp dialogue, Bannister has written a colourful debut that conjures up the same kind of gnarly, lurid weirdness that made Iain M. Banks' SF epics so memorable.

SFX
An excellent read that ticked the boxes for me. Augmented humans up to and including one as a cloud of nanomachines, Banksian drones and cruel politics. Grotesque and interesting alien life, and characters I cared about - all written in an engaging style.

NEAL ASHER
A thrilling debut . . . delivers in spades everything I'm looking for in a Space Opera – imaginative settings, strange aliens, an arsenal of unusual weapons, and, most of all, characters I like and who I want to know what happens to them. This is a book that is fast-paced and stylish, but not one where its literary merits outweigh its sheer enthusiasm and sense of enjoyment . . . It reminded me of the first Peter F. Hamilton I read in its sense of epic-ness, or the first Iain (M.) Banks I read in its intelligent plotting and its sense of humour . . . I can't recommend this one highly enough . . . should be a monster.

Mark Yon, SFFWORLD
Bannister's a fresh, vivid and inventive voice, and Creation Machine's epic roller-coaster gives modern space opera a much-needed shot in the arm. The scale is Cinemascope, but he keeps a clear and intelligent focus on his characters, settings and ideas.

IAN R. MACLEOD
I really enjoyed Creation Machine: fast-paced, intelligent SF, action-packed and immersive.

ADRIAN TCHAIKOVSKY, author of Children of Time
Bannister's exemplary world building brings a sense of awe to Creation Machine - you can't help but marvel at his descriptive prowess . . . a beautiful space opera.

SCiFiNOW
Great action, surprisingly morbid humour and great characters . . . enjoyable and accessible.

SFBOOKREVIEWS
A spectacular plunge into the deep end of wide-screen space opera . . . such an engaging novel with a good plot, plenty of sense-of-wonder, style and brio propelling matters . . . with Creation Machine we could be witnessing the birth of a new star in the SFnal firmament. Sun glasses please, we are in The Spin.

Concatenation.org
If you enjoy fast-moving adventures set on strange planets and involving alien species, inventive technology, heroic class warriors, Machiavellian politics — and heavy drinking in space bars — you will welcome this new British writer with open arms. And, if you do, you'll be pleased to hear that a sequel, set 10,000 years later, is due out any day.

MORNING STAR ONLINE