Surprisingly easy to make and is the best brownie of all time – gooey and fudgy, not dry and cake-like.
This is surprisingly easy to make and is the best brownie of all time – gooey and fudgy, not dry and cake-like. It depends on the sizes you cut it into, but it will easily make 30–36 pieces for an office shout. 

Makes up to 36 pieces
Prep Time 20 minutes
Baking Time 35 minutes
Eating Time 20 seconds!

6 eggs
2 cups caster sugar
300g dark chocolate, chopped
300g butter, chopped into cubes
1½ cups flour
½ cup dark baking cocoa (Dutch cocoa)
2 teaspoons vanilla essence
2 cups cherries, stoned & halved (if you use free-flow pitted frozen cherries, do not defrost them)
icing sugar for dusting (optional)
 
Filling
250g full-fat cream cheese, at room temperature
1 egg
½ cup caster sugar
 
Preheat oven to 170°C. Line a 25cm x 35cm sponge roll tin with baking paper, leaving a good amount hanging over the edges.
To make the filling, beat the cream cheese with an electric mixer until smooth and fluffy. Add the egg and caster sugar. Mix thoroughly. Scrape out into a small bowl and set aside.
To make the brownie: in the same bowl as used for the filling (no need to wash the bowl), beat the eggs and sugar together until pale and fluffy. In a small saucepan, over a medium heat, melt the chocolate and butter together, gently stirring with a spatula as it melts. Do not be tempted to turn the heat up too high. It will take about 10 minutes. Scrape the chocolate into the egg and sugar mixture and beat until smooth. Add the flour and cocoa, sifted together straight into the mixer. Add the vanilla and combine everything together.
Scrape brownie mixture into the prepared tin. Dollop teaspoons of cream cheese mixture all over the surface and swirl with a small paring knife. Evenly sprinkle with the cherries. There is no need to mix these in, as the brownie will rise up around them.
Bake for 30–35 minutes. The surface will be quite shiny and appear still fairly soft. Cool completely in the tin before lifting out by the paper overhang.
For a professional café presentation, use a serrated bread knife to trim the sides off the brownie so that no portion has a hard edge. Cut up to preferred size and shape. Dust with icing sugar before serving if desired.
---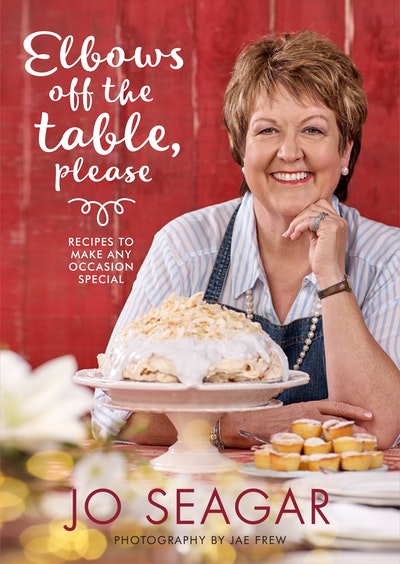 Delicious, effortless recipes along with wise advice on how to navigate any social occasion.
Buy now
Buy now
---