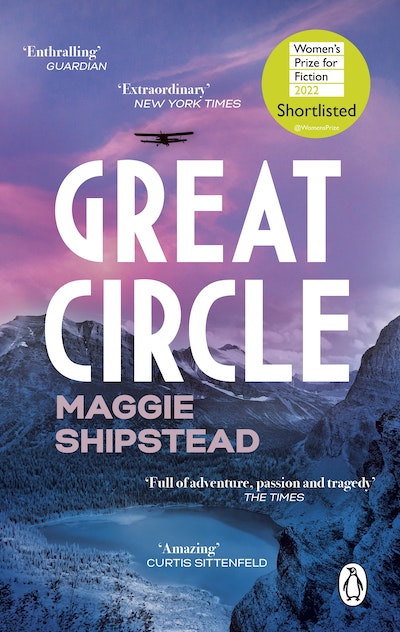 Published:

12 April 2022

ISBN:

9781529176643

Imprint:

Doubleday

Format:

Paperback

Pages:

602

RRP:

$26.00
Great Circle
The soaring and emotional novel shortlisted for the Women's Prize for Fiction 2022 and shortlisted for the Booker Prize 2021
---
---
---
SHORTLISTED FOR THE BOOKER PRIZE 2021
'A gripping historical adventure that feels sharp, fresh and modern' STYLIST'An amazing literary feat' CURTIS SITTENFELD
'A masterpiece' NIGELLA LAWSON
A soaring, breathtakingly ambitious novel that weaves together the astonishing lives of a 1950s vanished female aviator and the modern-day Hollywood actress who plays her on screen. For fans of TAYLOR JENKINS REID, WILLIAM BOYD and ANN PATCHETT
_________________________________________
I WAS BORN TO BE A WANDERER
From the night she is rescued as a baby out of the flames of a sinking ship; to the day she joins a pair of daredevil pilots looping and diving over the rugged forests of her childhood, to the thrill of flying Spitfires during the war, the life of Marian Graves has always been marked by a lust for freedom and danger.
In 1950, she embarks on the great circle flight, circumnavigating the globe. It is Marian's life dream and her final journey, before she disappears without a trace.
Half a century later, Hadley Baxter, a scandal-ridden Hollywood actress whose own parents perished in a plane crash is irresistibly drawn to play Marian Graves, a role that will lead her to probe the true mystery behind the vanished pilot.
_________________________________________
'Extraordinary' NEW YORK TIMES
'Full of adventure, passion and tragedy' THE TIMES
'Soars from the very first page' SUNDAY EXPRESS
'Luminous, masterful. Glides seamlessly through 20th century history' TELEGRAPH
'Breathtaking' OBSERVERReaders love GREAT CIRCLE:
***** What a read! Immense story with beautifully created characters
***** A 600 page turner that you are sad to finish
***** The story is so well researched and planned; historical fiction standing side by side with history itself
***** This is a stunning achievement, my perspective feels fundamentally transformed through reading it
***** A wonderful saga, covering a large chunk of the twentieth century
Published:

12 April 2022

ISBN:

9781529176643

Imprint:

Doubleday

Format:

Paperback

Pages:

602

RRP:

$26.00
Luminous, masterful ... glides seamlessly through the 20th century immersing the reader. Tremendously well-written

TELEGRAPH, 'Best Fiction of 2021'
Impressive and gripping

SUNDAY TIMES
Accomplished and ambitious... Most novelists have their limits and cut their cloth accordingly. Shipstead is a writer who can vividly summon whatever she chooses, taking the reader deep inside the world she creates.

FINANCIAL TIMES
Rocked by the cool cadences of Shipstead's prose, readers will embark on a journey through time and space. Across 600 pages, they'll link arms with its characters as they stroll along the decks of early-1900s ocean liners, then board private jets to eavesdrop on the poolside parties of 21st-century Hollywood. They'll spot eagles arcing over the wild frontiers of Prohibition-era America then feel the lonely, existential chill of the white expanses of Antarctica - in between city breaks in Europe and Australia

INDEPENDENT
A gorgeous soaring story that takes flight from the very first page

SUNDAY EXPRESS
Relentlessly exciting . . . My top recommendation for this summer. Shipstead's sweeping new female-centered epic intertwines the story of Marian, an aviator who wants to circumnavigate the globe with that of actor Hadley Baxter, cast a century later to play Marian in a film. What can Marian's life tell Hadley about her own?

WASHINGTON POST
Dazzling prose in the service of an expansive story that covers more than a century and seems to encapsulate the whole wide world. With detailed brilliance, she lavishes heart and empathy on every character. She never wavers, pulls out a twist or two that feel fully earned, and then sticks the landing

BOSTON GLOBE
In a moment when our quarantined worlds have become so small, GREAT CIRCLE offers more than just wanderlust; it feels like a liberation.

ENTERTAINMENT WEEKLY
What's so impressive is how deeply we care about each of these people, and how the shape and texture of each of their stories collide to build a story all its own. GREAT CIRCLE grasps for and ultimately reaches something extraordinary

NEW YORK TIMES
Bestselling novelist Maggie Shipstead was struggling to depict a female adventurer. So she became one. The stakes of GREAT CIRCLE are high-for its heroine, literally life or death. Though Shipstead never learned to fly herself, she aligned with her main character Marian Graves in more important ways . . . She is interested in testing her limits

L A TIMES
This wonderful novel weaves together the story of two women: a female aviator who goes missing in the1950s and the Hollywood star playing her in a film in the present day. A commitment that rewards with memorable characters and vivid storytelling

GOOD HOUSEKEEPING, 'Best Fiction of 2021'
GREAT CIRCLE is a novel of our insatiable need to stare down the terrible, magnificent vastness of it all: love, war, desire, fear ... A sweeping, swashbuckling book, full of oversaturated colour and grand destiny. The joy of this dynamic, soaring novel is not a welcome extra but its very engine

TIMES LITERARY SUPPLEMENT
A clever, poignant story about ambition, love and sacrifice that'll completely draw you in

COSMOPOLITAN MAGAZINE
Vast and entrancing

BA HIGH LIFE
A gripping historical adventure that feels sharp, fresh and modern

STYLIST MAGAZINE
Shipstead turns phrases and observes people beautifully. Full of adventure, passion and tragedy... a glorious tribute to women who push the boundaries of their one, brief life, breaking the bonds of their place in history and their female bodies, to soar higher and faster than others; and the price they pay to live so fast

THE TIMES, 'Best Fiction of 2021'
Nothing short of brilliant

OPRAH DAILY
Swinging from one century to the next, from the moneyed splendor of cities to the shifting Antarctic ice, Shipstead's prose overflows with meticulous detail

MINNEAPOLIS STAR TRIBUNE
The Marian portions rove from Montana to Manhattan to Scotland and Antarctica, and read like a carnival of early-20th-century American history, packed with bootleggers, treacherous boxcar rides, and tragic shipwrecks. The Hadley chapters offer a delectable dissection of life as a celebrity, serving up an intelligent skewering of the Hollywood machine and allowing the book to take flight

VOGUE
Grand, audacious and completely engrossing

DAILY MIRROR
This ambitious, wide-ranging and psychologically insightful novel is a tour-de-force

DAILY EXPRESS
A riveting novel with powerful characters that will excite, shock and enthral

PSYCHOLOGIES MAGAZINE
This epic novel tops 600 pages but you'll still want more. Ambitious, cannily constructed and entertaining

MAIL ON SUNDAY
From near-death experience in childhood, to marriage to a bootlegger, Marian rockets off the page in this gripping novel. A staggering story

SUNDAY TELEGRAPH MAGAZINE
It is rare to read a novel that is as beautifully built as it is elegantly written. Moving and surprising at every turn

GUARDIAN
Encompasses flight, travel adventure, identity, sexuality, family, the celebrity age - and in such beautiful writing. A masterpiece.

NIGELLA LAWSON
Ambitious, intricately detailed, rich and considered

INDEPENDENT
A WOMAN'S WEEKLY BOOK CLUB READ

MY WEEKLY
Great Circle is an epic trip-through Prohibition and World War II, from Montana to London to present-day Hollywood-and you'll relish every minute

PEOPLE MAGAZINE
Glitz and guts square off in Great Circle: a tale of two women set apart by a century, fighting to retain control of their own lives in a society that demands subservience. Shipstead is adept at writing so vividly, the reader can feel the thrill and pain of her characters. Cunningly crafted. . . richly layered, a joy to read . . . riveting

THE SPOKESMAN REVIEW
Mesmerizing

TATLER
Daringly ambitious... a novel that invites the reader to immerse themselves in the sweep of history, the rich and detailed research... breathtaking

OBSERVER
A work of epic proportions and rich, cinematic detail

FINANCIAL TIMES, BEST OF SUMMER BOOKS
A generous, escapist treat

i-PAPER, 30 BEST BOOKS FOR SUMMER
A soaring epic of female adventure and wanderlust

GUARDIAN
An enthralling epic about aviation and adventure. A big, baggy blast of a book bulging with sex and drugs, taking in Prohibition-era Montana, wartime London, present-day Hollywood, painting and physics. I loved it

REBECCA JONES, BBC ARTS CORRESPONDENT
Sweepingly panoramic and immersive. An audacious epic

DAILY MAIL, 'Best Fiction of 2021'
Enthralling. Moving and surprising at every turn

GUARDIAN
Maggie Shipstead combines cinematic scope with a poet's eye for detail

THE TIMES
A sweeping saga that alternates between the life of a tenacious female aviator in the 1930s and that of a millennial film star cast to play her in a biopic. In death, 'each of us destroys the world,' the author observes - but her engrossing novel is a moving reflection on the will to survive

THE ECONOMIST
The beginning of Maggie Shipstead's astounding novel, a Booker finalist, includes a series of endings: two plane crashes, a sunken ship and several people dead. The bad luck continues when one of the ship's young survivors, Marian, grows up to become a pilot-only to disappear on the job. Shipstead unravels parallel narratives, Marian's and that of another woman whose life is changed by Marian's story, in glorious detail. Every character, whether mentioned once or 50 times, has a specific, necessary presence. It's a narrative made to be devoured, one that is both timeless and satisfying.

TIME, BOOK OF THE YEAR
Absolutely dazzling

NEWSWEEK
Shipstead soars in this expansive, beautiful novel about women and flight

THE STRAITS TIMES
Artfully constructed and exhuberantly entertaining

THE MAIL, BOOK OF THE YEAR
GREAT CIRCLE flew us to a different world. A book to devour

TELEGRAPH, BOOK OF THE YEAR
Beautifully written and endlessly readable, this rapturous novel soars

GUARDIAN
Thrilling

DAILY MAIL
Article
Maggie Shipstead Q&A
The Great Circle author on inspiring travel, research and spending seven years on her latest novel.
Article