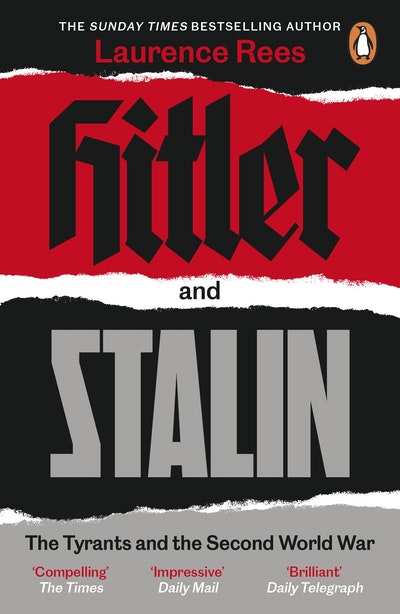 Published:

19 October 2021

ISBN:

9780241979693

Imprint:

Penguin General UK

Format:

Paperback

Pages:

528

RRP:

$26.00
Hitler and Stalin
The Tyrants and the Second World War
---
---
---
The bestselling historian on the dramatic wartime relationship - and shocking similarities - between two tyrants
This compelling book on Hitler and Stalin - the culmination of thirty years' work - examines the two tyrants during the Second World War, when Germany and the Soviet Union fought the biggest and bloodiest war in history. Yet despite the fact they were bitter opponents, Laurence Rees shows that Hitler and Stalin were, to a large extent, different sides of the same coin. Both were prepared to create undreamt-of suffering, destroy individual liberty and twist facts in order to build the utopias they wanted, and while Hitler's creation of the Holocaust remains a singular crime, Rees shows why we must not forget that Stalin committed a series of atrocities at the same time.
Using previously unpublished, startling eyewitness testimony from soldiers of the Red Army and Wehrmacht, civilians who suffered during the conflict and those who knew both men personally, bestselling historian Laurence Rees - probably the only person alive who has met Germans who worked for Hitler and Russians who worked for Stalin - challenges long-held popular misconceptions about two of the most important figures in history. This is a master work from one of our finest historians.
Published:

19 October 2021

ISBN:

9780241979693

Imprint:

Penguin General UK

Format:

Paperback

Pages:

528

RRP:

$26.00
Praise for Hitler and Stalin
Laurence Rees brilliantly combines powerful eye-witness testimony, vivid narrative and compelling analysis in this superb account of how two terrible dictators led their countries in the most destructive and inhumane war in history

Professor Sir Ian Kershaw, author of Hitler - Hubris and Hitler - Nemesis
Coming from one of the world's experts on the Second World War, this is an important and original - and devastating - account of Hitler and Stalin as dictators. A must read

Professor Robert Service, author of Stalin: A Biography.
In this fascinating study of two monsters, Rees is extraordinarily perceptive and original

Antony Beevor
A brave and remarkable work. Revelatory, gripping and hugely relevant, it shows Hitler and Stalin as you've never known them. Truly a story of our time, with so many lessons for the troubled world we inhabit today, it will revolutionise your understanding of these two foremost tyrants

Damien Lewis, author of The Nazi Hunters
Laurence Rees's 'Hitler and Stalin' is an excellent addition to a subject that fascinates and horrifies in equal measure. Presenting this complex history with his usual clarity, his latest study is an enthralling read. By weaving many fresh eyewitness accounts into the narrative, offering new insights and commanding his reader's attention despite the huge scope of his task, Rees has written a book that will appeal to readers of biography and history alike

Julia Boyd, author of Travellers in the Third Reich
Laurence Rees has produced a vivid and terrifying portrait of the twentieth century's two most brutal tyrants. His mastery of the subject shines through on every page. Provocative, gripping and full of fresh insights, Hitler and Stalin is narrative history at its very best.

Henry Hemming, author of Churchill's Iceman
A fascinating history... always compelling

David Aaronovitch, The Times
Impressive . . . well paced and well informed with an eye for telling anecdotes and colourful character sketches . . . Rees' decision to add personal stories to his narrative adds an important layer to our understanding of both the dictators themselves and their victims

Robert Gerwarth, The Daily Telegraph
[There are] many gems in this impressive book

Tony Rennell, Daily Mail