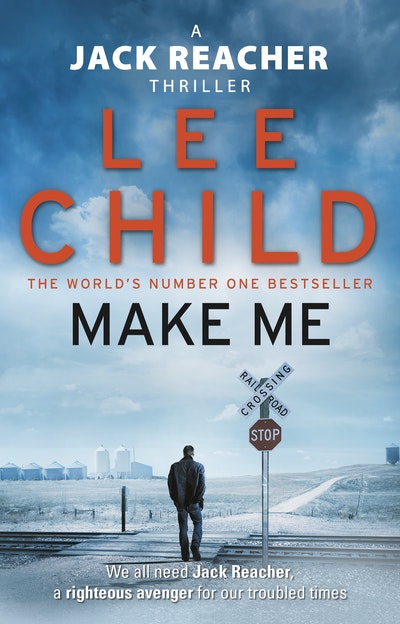 Published:

10 September 2015

ISBN:

9781473508781

Imprint:

Transworld Digital

Format:

EBook

Pages:

512
Make Me
(Jack Reacher 20)
---
---
---
This pacy, nailbiting new Jack Reacher thriller is one of Lee Child's darkest and most addictive yet. Prepare to be nailed to your seat by another hair-raising, heart-pounding adventure from the kick ass master of the thriller genre!
"Child's best for some time...with detective-story and romcom elements (even sly humour) on top of the psychological duels and set-piece violence." (Sunday Times)
Jack Reacher has no place to go, and all the time in the world to get there.
A remote railroad stop on the prairie with the curious name of Mother's Rest seems perfect for an aimless one-day stopover. He expects to find a lonely pioneer tombstone in a sea of nearly-ripe wheat.
Instead there is a woman waiting for a missing colleague, a cryptic note about two hundred deaths, and a small town full of silent, watchful people.
Reacher's one-day stopover turns into an open-ended quest leading to the most hidden reaches of the internet, and right into the nightmare heart of darkness.
_________
Although the Jack Reacher novels can be read in any order, Make Me is 20th in the series.
And be sure not to miss Reacher's newest adventure, no.26, Better off Dead! ***COMING SOON and AVAILABLE FOR PRE-ORDER NOW***
Published:

10 September 2015

ISBN:

9781473508781

Imprint:

Transworld Digital

Format:

EBook

Pages:

512
Lee Child's Reacher series has hit Book No. 20 with a resounding peal of wisecracking glee ("Are you going to be a problem?" "I'm already a problem. The question is, what are you going to do about it?"). Everything about it...is as strong as ever....Make Me is a hot one.

Janet Maslin, New York Times
I am very much in love with Jack Reacher - as a man and a role model. If I can't shag him, I want to be him.

Lucy Mangan, Stylist
Typically blunt and energetic...precisely judged.

Independent
Breathless and bloody...You can't help lapping it up.

Evening Standard
The fights are convincing and the dialogue is as brilliant as always.

Literary Review
Turns into a sinister tri-state conspiracy with a massive body count...a Reacher novel par excellence, fuelled by the terse diague and breakneck action sequences that make Lee Child so popular.

Sydney Morning Herald
I was unable to put thebook down...a brilliantly crafted mystery and one of Child's best.

Huffington Post
The Reacher books are Westerns: they are about the man of honor coming to the lawless frontier town in order to impose a rough sort of justice...[Reacher]'s leading us back into the wilderness, with the reassurance that our psychopaths are bigger and stronger than the bad guys' psychopaths. I've read all twenty of Lee Child's novels. Maybe there's something wrong with me. But I can't wait for the twenty-first.

Malcolm Gladwell, New Yorker
Does a fine job of ratcheting up the tension...The relentlessly entertaining Reacher format shows no sign of wearing out its welcome just yet.

Mail on Sunday
As well as romance, there's as usual plenty of fast-paced, punchy action and deceptively deft plotting.

Sunday Mirror
Child's best for some time: an enhancement of the old formula, with detective-story and romcom elements (even sly humour) on top of the psychological duels and set-piece violence.

Sunday Times
No one writes more compelling thrillers than Child, who is at the top of his form with Make Me.

Chicago Tribune
A crack detective who's tougher than the toughest guys in the army.at bottom he's a knight errant or a one-man A Team...he also has a streak of learning...Make Me is a return to form.

London Review of Books