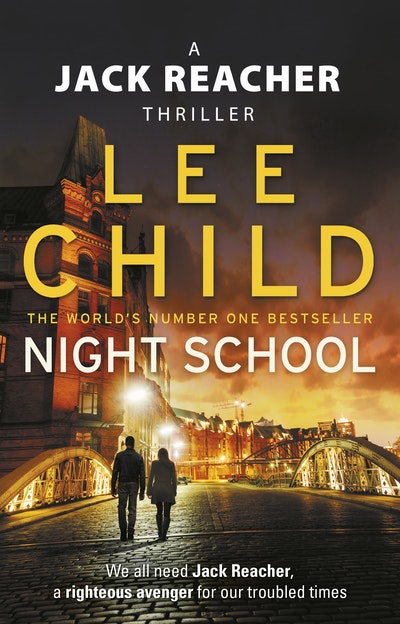 Published:

7 November 2016

ISBN:

9781473508798

Imprint:

Transworld Digital

Format:

EBook

Pages:

480
Night School
(Jack Reacher 21)
---
---
---
The 21st Jack Reacher thriller by number-one bestselling author Lee Childtakes Reacher back to his army days, but this time he's not in uniform. With trusted sergeant Frances Neagley at his side, he must carry the fate of the world on his shoulders, in a wired, fiendishly clever new adventure that will make the cold sweat trickle down your spine.
"I know I say this every year. . .But. Best. Reacher. Ever." (Karin Slaughter)
It's just a voice plucked from the air: 'The American wants a hundred million dollars'.
For what? Who from? It's 1996, and the Soviets are long gone. But now there's a new enemy. In an apartment in Hamburg, a group of smartly-dressed young Saudis are planning something big.
In the morning they gave Reacher a medal, and in the afternoon they sent him back to school.
Jack Reacher is fresh off a secret mission. The Army pats him on the back and sends him to a school with only three students: Reacher, an FBI agent, and a CIA analyst. Their assignment?
To find that American. And what he's selling. And to whom.
_________
Although the Jack Reacher novels can be read in any order, Night School is 21st in the series.
And be sure not to miss Reacher's newest adventure, no.26, Better off Dead! ***COMING SOON and AVAILABLE FOR PRE-ORDER NOW***
Published:

7 November 2016

ISBN:

9781473508798

Imprint:

Transworld Digital

Format:

EBook

Pages:

480
I know I say this every year...But. Best. Reacher. Ever.

Karin Slaughter
Reacher... wins all fights, charms all women and outsmarts all rivals, friend or foe.What makes Night School the best of the Reacher novels I've read is that Child has concocted a brilliant plot...battling to save America, or maybe the entire civilised world, from a terrorist plot that is original, engrossing and all too believable...one of the best thrillers you'll read this year.

Washington Post
Dripping with irony and oozing dread...utterly gripping...Acute observation reveals "every detail of the glowing scene". Many so-called literary novels lack such skill.

Mark Sanderson, Evening Standard
This latest instalment has all the classic ingredients: a great setting, a good villain, and a mystery that draws you in efficiently, escalates unpredictably, and has a satisfying resolution.

John Lanchester, New Yorker
Packed with action, violence and powered by a deceptively complex plot - this is typically nail-biting stuff.

Sunday Mirror
Reacher is a former Army M.P. who thinks like a knight but looks like a drifter. He stops to right wrongs...then moves on...There's always more for Mr Child to add to his canon of Reacher...We've heard lots about his strength but little about his physical grace. This is the book in which he eases through a crowd "like a police horse at a riot".

Janet Maslin, New York Times
Ever more gripping...Night School is the closest that Reacher has come to being a secret agent, making this expertly paced thriller and addictive combination of spy yarn, detective story and beat-'em-up fightfest.

Sunday Times
According to Forbes, the Jack Reacher series is "the strongest brand in publishing"...As ever, Child delivers a satisfyingly complex, exciting and well-researched story...no doubt that Reacher #21 will fly off bookshop shelves worldwide.

Irish Independent
Rewarding and adrenalin-fuelled.

Sun