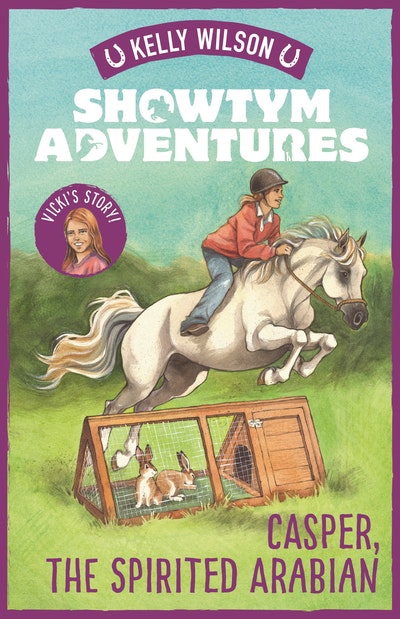 Published:

28 May 2018

ISBN:

9780143772248

Imprint:

Puffin

Format:

Paperback

Pages:

176

RRP:

$16.99
Showtym Adventures 3: Casper, the Spirited Arabian
---
---
---
The third book in a bestselling junior fiction series inspired by true stories from the Wilson Sisters' childhoods. Vicki's biggest challenge yet . . . to transform a dangerous pony!
In the third Showtym Adventure, Vicki takes on a dangerously bad-tempered Arabian. Will she be able to uncover his potential?
When Vicki hears about a difficult Arabian that no one wants, she will stop at nothing to save him. Years of misunderstanding have left Casper wayward and mistrustful, but Vicki senses a gentle soul beneath the pony's rough exterior.
Vicki must learn the importance of patience and compromise to have any chance of winning over the high-strung gelding. Will Casper ever trust humans again? And will Vicki be able to uncover the potential she sees in the spirited Arabian?
This story of self-discovery and second chances, in which Vicki, Kelly and Amanda Wilson first help a misunderstood pony to trust again, is inspired by the Wilson Sisters' early years.
Published:

28 May 2018

ISBN:

9780143772248

Imprint:

Puffin

Format:

Paperback

Pages:

176

RRP:

$16.99
Other books in the series
Praise for Showtym Adventures 3: Casper, the Spirited Arabian
Another wonderful story from Kelly Wilson. This time we meet Casper, a very spirited horse that no one wants because they can't do anything with him. However, Vicki, the eldest of the Wilson sisters, is determined to buy him and with help from her younger sisters Kelly and Amanda she eventually raises enough money to do so. However, now she must work hard to gain his trust. Every child who loves horses will enjoy this book.

Linda Hall, Hamilton News
Following hard on the hooves of the first two best-selling books in this series, Kelly Wilson's latest book, Casper, the Spirited Arabian, sees young heroine, Vicki, facing her biggest challenge yet. Can she turn a dangerous (yet misunderstood) pony into a showjumping star? Inspired by true stories from the Wilson Sisters (of Keeping up with the Kaimanawas fame), these inspiring books are sure to be loved by children who are passionate about horses.

Eastlife
I just got Casper, The Spirited Arabian . . . I loved it sooo much! Couldn't put it down. I loved the How-Tos, it's going to really going to help me if we ride bareback at pony club. Probably my favourite Showtym Adventures book so far.

Elise (12 years)
I love all your books, they are very inspiring. I love how, no matter what, Vicki doesn't give up. It shows that dreams can come true with passion and hard work.

Hannah (11 years)
I cannot put your books down and I have to take every single book to school. I love all the horse books 100 times better than ice cream. Horses rule the world!

Olivia (6 years)
I loved this book so much. I can't wait until I get the next Showtym Adventures book! It was the best book I have ever read.

Bella (9 years)
I love your new book! I love all the ideas you wrote about to use in the cross-country course. I could read your books all day every day.

Jazz
Article
A day in the life: Kelly Wilson
When you're an author/ photographer/ horse tamer/ adventurer is there any such thing as 'a usual day'? Find out in our interview with Kelly Wilson, author of the Showtym Adventures series.
Teachers' notes