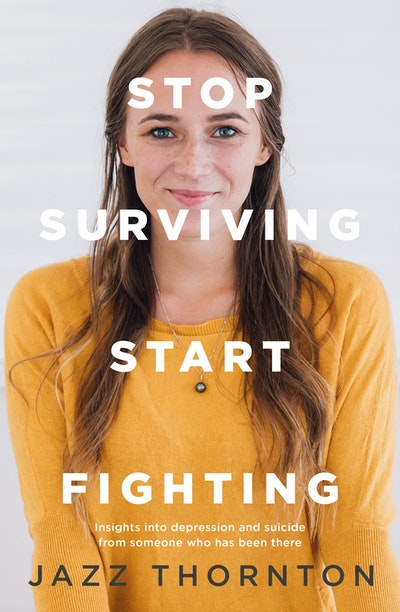 Published:

31 March 2020

ISBN:

9780143774129

Imprint:

Penguin

Format:

Trade Paperback

Pages:

272

RRP:

$38.00
Stop Surviving Start Fighting
---
---
---
A hard-hitting, thought-provoking account of surviving suicide attempts and moving on to a better life, which provides practical help and inspiration to anyone affected by depression or suicide.
Jazz Thornton first attempted to take her own life at the age of 12. Multiple attempts followed and she spent time in psychiatric wards and under medical supervision as she rode the rollercoaster of depression and anxiety through her teenage years - yet the attempts continued.
Find out what Jazz learned about how her negative thought patterns came to be, and how she turned those thoughts - and her life - around. Who and what helped, and what didn't help. The insights she gives will help create greater understanding of those grappling with mental illness, and provide support for those around them who desperately want to help.
Jazz went on to attend film school, and to co-found Voices of Hope, a non-profit organisation dedicated to helping those with mental health issues and show them there is a way forward. She creates online content to provide hope and help.
Her first video Dear Suicidal Me has had over 80 million views all around the world. She went on to create Jessica's Tree, a web series that follows the 24 hours between a friend, Jess, going missing and the discovery of her body. It provides insights into Jessica's struggles, to help people better understand those suffering from depression. https://www.youtube.com/watch?v=7QFU_qg7Msk Jessica's Tree was viewed more than 230,000 times in the two months following its release in March 2019 and immediately began winning international recognition and awards, including the Huawei Mate30 Pro New Zealand Television Awards 2019 Best Web Series.
The process and the delicate decisions that had to be made to create Jessica's Tree have themselves been documented in a film about Jazz called The Girl on the Bridge, due for release early in 2020.
Published:

31 March 2020

ISBN:

9780143774129

Imprint:

Penguin

Format:

Trade Paperback

Pages:

272

RRP:

$38.00
Video
At Home with Penguin and Jazz Thornton
Jazz Thornton talks about her book Stop Surviving Start Fighting and also shares with us her tips for getting yourself or a loved one through lockdown if they're struggling with mental health or suicidal thoughts. Where to get help: 1737, NEED TO TALK? – Free call or text. Need to talk? 1737 is free to call or text from any landline or mobile phone, 24 hours a day 7 days a week. ANXIETY NEW ZEALAND – 0800 ANXIETY (0800 269 4389) DEPRESSION HELPLINE – 0800 111 757 or free text 4202 (to talk to a trained counsellor about how you are feeling or to ask any questions)(available 24/7) HEALTHLINE – 0800 611 116 KIDSLINE – 0800 54 37 54 (0800 KIDSLINE) for young people up to 18 years of age (available 24/7) LIFELINE – 0800 543 354 (0800 LIFELINE) or free text 4357 (HELP) (available 24/7) PARENT HELP – 0800 568 856 for parents/wha¯nau seeking support, advice and practical strategies on all parenting concerns. Anonymous, non-judgemental and confidential. RAINBOW YOUTH – (09) 376 4155 available 11am–5pm weekdays. RURAL SUPPORT TRUST – 0800 787 254 SAMARITANS – 0800 726 666 (available 24/7) SHINE (DOMESTIC VIOLENCE) – 0508 744 633 available 9am–11pm, 7 days a week. SKYLIGHT – 0800 299 100 for support through trauma, loss and grief; 9am–5pm weekdays. SPARX.ORG.NZ – online e-therapy tool provided by the University of Auckland that helps young people learn skills to deal with feeling down, depressed or stressed. SUICIDE CRISIS HELPLINE – 0508 828 865 (0508 TAUTOKO) a free, nationwide service available 24 hours a day, 7 days a week and is operated by highly trained and experienced telephone counsellors who have undergone advanced suicide prevention training. SUPPORTING FAMILIES IN MENTAL ILLNESS – 0800 732 825 THELOWDOWN.CO.NZ – or email team@thelowdown.co.nz or free text 5626 WHAT'S UP – 0800 942 8787 (for 5–18 year olds). Phone counselling is available Monday to Friday, 12 noon–11pm and weekends, 3pm–11pm. Online chat is available from 1pm–10pm Monday to Friday, and 3pm–10pm on weekends. WOMEN'S REFUGE – 0800 733 843 (0800 REFUGE) for women living with violence, or in fear, in their relationship or family. WWW.DEPRESSION.ORG.NZ – includes The Journal online help service. YOUTHLINE – Free call 0800 376 633, Free text 234, talk@youthline.co.nz International: AUSTRALIA LIFELINE – 13 11 14 KIDSLINE – 1800 55 1800 BEYOND BLUE – 1300 22 4636 USA SUICIDE PREVENTION HELPLINE – 1 800 273 8255 CRISIS TEXT LINE – text HOME to 741741 UK 1 800 SUICIDE – 1 800 784 2433 1 800 273 TALK – 1 800 273 8255 UK SUICIDE HOTLINE – 08 457 90 90 90 CRISIS TEXT LINE – text 85258 CANADA CRISIS SUPPORT – 1 833 456 4566 CRISIS TEXT LINE – text HOME to 686868
Article
Good Books about Tough Topics
Figuring out how to talk to children about difficult emotions can sometimes feel impossible. Books can offer a good gateway to starting these conversations. Here are some books that might help you to navigate those tricky topics.