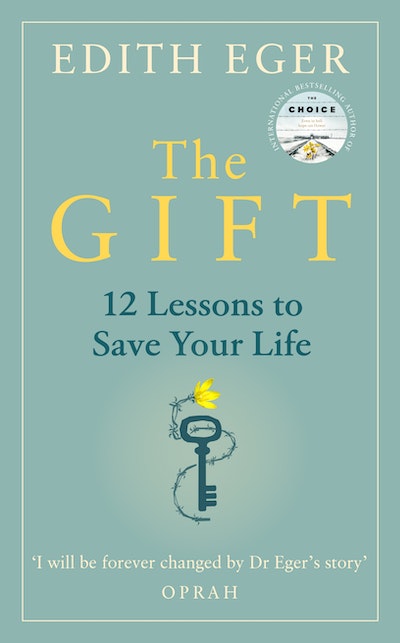 Published:

1 September 2020

ISBN:

9781846046278

Imprint:

Rider

Format:

Hardback

Pages:

224

RRP:

$35.00
The Gift
12 Lessons to Save Your Life
---
---
---
12 lessons on life by celebrated therapist, Holocaust survivor and author of the award-winning international bestseller The Choice
'I will be forever changed by Dr Eger's story' OPRAH
This practical and inspirational guide to healing from the bestselling author of The Choice shows us how to release your self-limiting beliefs and embrace your potential.
The prison is in your mind. The key is in your pocket.
In the end, it's not what happens to us that matters most - it's what we choose to do with it. We all face suffering - sadness, loss, despair, fear, anxiety, failure. But we also have a choice; to give in and give up in the face of trauma or difficulties, or to live every moment as a gift.
Celebrated therapist and Holocaust survivor, Dr Edith Eger, provides a hands-on guide that gently encourages us to change the imprisoning thoughts and destructive behaviours that may be holding us back. Accompanied by stories from Eger's own life and the lives of her patients her empowering lessons help you to see your darkest moments as your greatest teachers and find freedom through the strength that lies within.
'An essential read for tough times' RANGAN CHATTERJEE
'Wise and provocative' THE DAILY MAIL
Published:

1 September 2020

ISBN:

9781846046278

Imprint:

Rider

Format:

Hardback

Pages:

224

RRP:

$35.00
Edith Eva Eger is my kind of hero… rather than let her painful past destroy her, she chose to transform it into a powerful gift – one she uses to help others heal

Jeannette Walls, author of The Glass Castle
Edith Eva Eger is my kind of hero… rather than let her painful past destroy her, she chose to transform it into a powerful gift – one she uses to help others heal

Jeannette Walls, author of The Glass Castle
Edith Eva Eger is my kind of hero… rather than let her painful past destroy her, she chose to transform it into a powerful gift – one she uses to help others heal

Jeannette Walls, author of The Glass Castle
Dr Eger's life reveals our capacity to transcend even the greatest of horrors and to use that suffering for the benefit of others. She has found true freedom and forgiveness and shows us how we can as well

Desmond Tutu
Dr Eger's life reveals our capacity to transcend even the greatest of horrors and to use that suffering for the benefit of others. She has found true freedom and forgiveness and shows us how we can as well

Desmond Tutu
Dr Eger's life reveals our capacity to transcend even the greatest of horrors and to use that suffering for the benefit of others. She has found true freedom and forgiveness and shows us how we can as well

Desmond Tutu
I'll be forever changed by Dr. Eger's story… we all have the ability to pay attention to what we've lost, or to pay attention to what we still have

Oprah
I'll be forever changed by Dr. Eger's story… we all have the ability to pay attention to what we've lost, or to pay attention to what we still have

Oprah
I'll be forever changed by Dr. Eger's story… we all have the ability to pay attention to what we've lost, or to pay attention to what we still have

Oprah
Wise and provocative

The Daily Mail
Wise and provocative

The Daily Mail
Wise and provocative

The Daily Mail
Dr Edith Eger knows better than most how trauma and sadness can affect us all. This hopeful and helpful book explains how rather than limiting us they can transform our lives. An essential read for tough times

Rangan Chatterjee
Dr Edith Eger knows better than most how trauma and sadness can affect us all. This hopeful and helpful book explains how rather than limiting us they can transform our lives. An essential read for tough times

Rangan Chatterjee
Dr Edith Eger knows better than most how trauma and sadness can affect us all. This hopeful and helpful book explains how rather than limiting us they can transform our lives. An essential read for tough times

Rangan Chatterjee
Hopeful and helpful

Marian Keyes
Hopeful and helpful

Marian Keyes
Hopeful and helpful

Marian Keyes
This woman will change your life ... The Gift should be required reading for all humans

Maria Forleo
This woman will change your life ... The Gift should be required reading for all humans

Maria Forleo
This woman will change your life ... The Gift should be required reading for all humans

Maria Forleo
The Gift is quite simply a phenomenal read and in my view a must-read for all of us

Dr Rangan Chatterjee
The Gift is quite simply a phenomenal read and in my view a must-read for all of us

Dr Rangan Chatterjee
The Gift is quite simply a phenomenal read and in my view a must-read for all of us

Dr Rangan Chatterjee