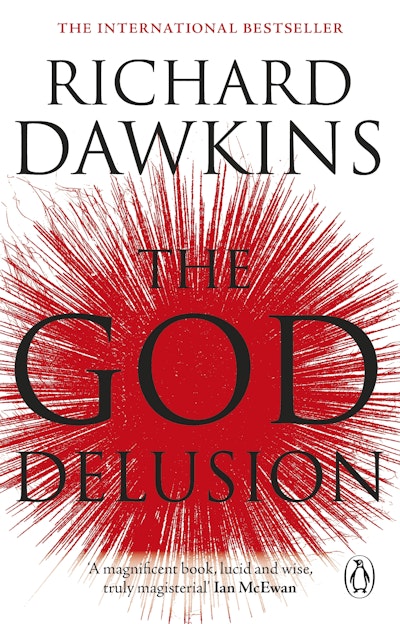 Published:

1 May 2010

ISBN:

9781409091585

Imprint:

Transworld Digital

Format:

EBook

Pages:

496
The God Delusion
---
---
---
The international bestselling broadside that has taken the world by storm
'Timely, impassioned and brilliantly argued' Rod Liddle, Sunday Times
'A spirited and exhilarating read' Joan Bakewell, Guardian
Dawkins attacks God in all his forms.
He eviscerates the major arguments for religion and demonstrates the supreme improbability of a supreme being. He shows how religion fuels war, foments bigotry and abuses children.
The God Delusion is a brilliantly argued, fascinating polemic that will be required reading for anyone interested in this most emotional and important subject.
Published:

1 May 2010

ISBN:

9781409091585

Imprint:

Transworld Digital

Format:

EBook

Pages:

496
Praise for The God Delusion
A very important book, especially in these times...a magnificent book, lucid and wise, truly magisterial

Ian McEwan
Written with all the clarity and elegance of which Dawkins is a master. It should have a place in every school library - especially in the library of every "faith" school.

Philip Pullman
A resounding trumpet blast for truth... It feels like coming up for air.

Matt Ridley
A spirited and exhilarating read...Dawkins comes roaring forth in the full vigour of his powerful arguments, laying into fallacies and false doctrines with the energy of the polemicist at his most fiery.

Joan Bakewell,The Guardian
One of the best non-fiction writers alive today

Steven Pinker
This is my favourite book of all time ... a heroic and life-changing work.

Derren Brown
Everyone should read it. Aethists will love Mr Dawkins's incisive logic and rapier wit and theists will find few better tests of the robustness of their faith.

The Economist
This is a brave and important book. Is it too much to hope that it will dump religious bigotry in the dustbin of history where it belongs?

Desmond Morris
Could not be more apt for out times - Dawkins pulls out all the stops to demonstrate the force of his thesis in this passionate new book... lively and highly readable.

Sunday Times
An entertaining, wildly informative, splendidly written polemic ... we are elegantly cajoled, cleverly harangued into shedding ourselves of this superficial nonsense that has bedevilled us since our first visit to Sunday school.

Rod Liddle, Sunday Times
Richard Dawkins is energising a huge unbelieving constituency in this country who feel disenfranchised by the present obsession with religion. All power to him we say.

Terry Sanderson, Vice President of the National Secular Society
A wonderful book - a passionate and vital advocacy which is also joyous, elegant, fair, engaging, and often very funny, and which is informed throughout by an exhilarating breadth of reference and clarity of thought.

Michael Frayn
Passionate religious irrationality too often poses serious obstacles to human betterment. To oppose it effectively, the world needs equally passionate rationalists unafraid to challenge long accepted beliefs. Richard Dawkins so stands out through the cutting intelligence of The God Delusion.

James D. Watson, Nobel Laureate and co-discoverer of DNA
Combined with... straightforward, clear and impassioned delivery of his message, this makes The God Delusion the most coherent and devastating indictment of religion I have ever read. The case Dawkins makes could not be clearer. There is no God. All religion is wrong.

Harry Ritchie, Mail on Sunday
The God Delusion is a fascinating book...expressed in sparkling language which makes the book not only a pleasure to read but also a stimulus to thinking across this widest of spectrums.

Financial Times
Dawkins is Britain's most famous atheist and in The God Delusion he gives eloquent vent to his uncompromising views...if you want an understanding of evolution or an argument for atheism, there are few better guides than Richard Dawkins.

Sunday Telegraph
He is surely one of the finest living writers in the English language.

Irish Times
In this passionately argued book [Dawkins] boots all the crazy incoherencies put forward by the vicar and his ilk firmly into touch.

Arena
A rallying cry to those who want to come out as non-believers, but are not quite sure if they dare...Dawkin's writing is always wonderfully lucid.

Daily Mail
The God Delusion is something to rejoice about. It's a book that gives a real morale boost to atheists.

Hermione Eyre, Independent
Passionate, clever, funny, uplifting and above all, desperately needed.

Daily Express
Richard Dawkins' The God Delusion should be read by everyone from atheist to monk. If its merciless rationalism doesn't enrage you at some point, you probably aren't alive.

Julian Barnes
There is not a dull page in Richard Dawkins's The God Delusion, a book that makes me want to cheer its clarity, intelligence and truth-telling.

Claire Tomalin
The most stimulating thing I have read this year...One can hardly read a page without feeling that, if monotheistic fundamentalists everywhere (in America as well as Asia) could absorb even a tenth of it, the world would be a safer and more peaceful place.

David Gilmour, The Spectator
In terms of actual belief I have no other god besides Richard Dawkins.

David Baddiel in The Times
An undeniable tour de force - a flashy, ambitious rally-call for all those bashful about their non-belief, cowed by their converts.

Evening Standard
Dawkins is a brilliant and entertaining polemicist ... such a clever and witty writer that he carries readers effortlessly with him. After a reading of The God Deluision, an omnipotent and omniscient deity seems about as likely a being as the tooth fairy.

The Sunday Times
A thoughtful, detailed and forceful argument for atheism. Vast in its scope, yet always crisply precise, this is an invigorating, suprisingly easy-to-grasp read.

Daily Mail