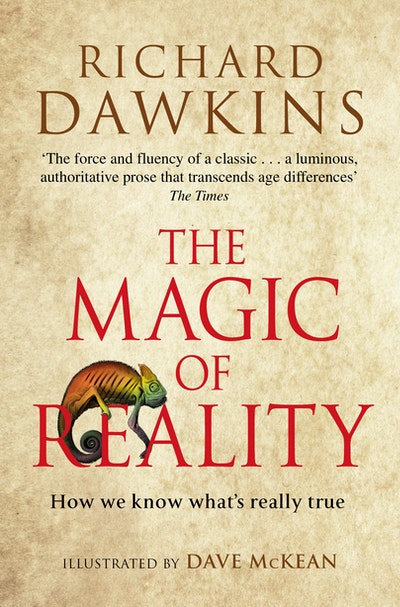 Published:

3 October 2011

ISBN:

9781409011415

Imprint:

Transworld Digital

Format:

EBook

Pages:

272
The Magic of Reality
How we know what's really true
---
---
---
An inspiring introduction to science and a fascinating exploration of the natural world.
'Dawkins has a gift for making science enjoyable... [He is] one of the greatest scientific writers / explainers of all time.' Bill Gates
'The clearest and most beautifully written introduction to science I've ever read.' Philip Pullman
How do we know what's really true?
Magic takes many forms. The ancient Egyptians explained the night by suggesting that the goddess Nut swallowed the sun. The Vikings believed a rainbow was the gods' bridge to earth. These are magical, extraordinary tales. But there is another kind of magic, and it lies in the exhilaration of discovering the real answers to these questions. It is the magic of reality - science.
Packed with inspiring explanations of space, time and evolution, laced with humour and clever thought experiments, The Magic of Reality explores a stunningly wide range of natural phenomena. What is stuff made of? How old is the universe? What causes tsunamis? Who was the first man, or woman? This is a page-turning, inspirational detective story that not only mines all the sciences for its clues but primes the reader to think like a scientist too.
Richard Dawkins elucidates the wonders of the natural world to all ages with his inimitable clarity and exuberance in a text that will enlighten and inform for generations to come.

Published:

3 October 2011

ISBN:

9781409011415

Imprint:

Transworld Digital

Format:

EBook

Pages:

272
Praise for The Magic of Reality
Dawkins has a gift for making science enjoyable ... [He is] one of the greatest scientific writers/explainers of all time.

Bill Gates
A charming and free-ranging history of science

The Sunday Times
Dawkins uses a simple, brilliant technique highly appealing to young and old

The Washington Post
Few scientists manage to reach a huge popular audience. Even among them Richard Dawkins is distinctive for the clarity and elegance of his prose. The Magic of Reality... will be appreciated by inquisitive children while illuminating much for the adult general reader.

The Times
From the first sentence it reads with the force and fluency of a classic ... a luminous, authoritative prose that transcends age differences

The Times
I wanted to write this book but I wasn't clever enough. Now I've read it, I am

Ricky Gervais
It's the clearest and most beautifully written introduction to science I've ever read. Again and again I found myself saying "Oh! So that's how genes work!" (or stars, or tectonic plates, or all the other things he explains). Explanations I thought I knew were clarified; things I never understood were made clear for the first time

Philip Pullman
Prodigiously illustrated and beautifully designed ... I cannot think of a better, or simpler, introduction to science

Guardian
Stunning in appearance ... the book is a triumph

New Scientist
The Magic of Reality provides a beautiful, accessible and wide ranging volume that addresses the questions that all of us have about the universe...written with the masterful and eloquently literate style of perhaps the best popular expositor of science, Richard Dawkins, and delightfully illustrated by Dave McKean. What more could anyone ask for?

Lawrence Krauss, author of Quantum Man, and A Universe from Nothing
The text is persuasive whatever one's age ... the chapter on rainbows has the clearest explanation of how they appear that I've ever seen

Financial Times
This book is primarily aimed at teenagers, but plenty of adults will get a kick out of it too...McKean's drawings bring the text to life brilliantly ... Dawkins writes convincingly about everything from chemistry to statistics

Independent on Sunday
This book may be exactly what's needed to increase science literacy for readers of all ages

Publishers Weekly