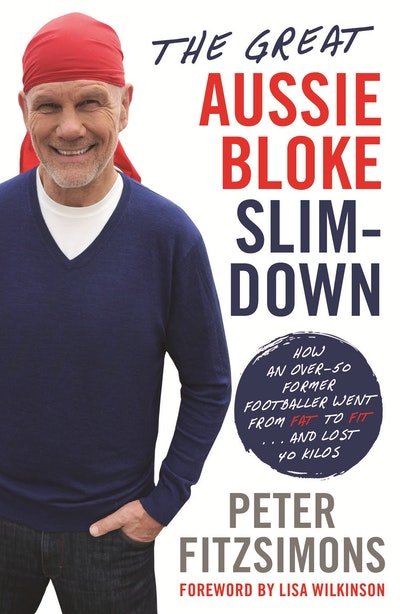 Published:

28 November 2016

ISBN:

9780143781875

Imprint:

Random House Australia

Format:

EBook

Pages:

256
The Great Aussie Bloke Slim-Down
How an Over-50 Former Footballer Went From Fat to Fit . . . and Lost 45 Kilos
---
---
---
The story of one man who had the guts to lose his gut. This is a book that will finally help an ordinary bloke lose weight. (Don't worry, it has nothing to do with wearing a red bandana.)
The story of one man who had the guts to lose his gut. This is a book that will finally help an ordinary bloke lose weight. (Don't worry, it has nothing to do with wearing a red bandana.)
Ever struggled with your weight? Or did you stop struggling years ago and let the pies win? Peter FitzSimons has been there and eaten that. In The Great Aussie Bloke Slim-Down,he will lead you through the fads that failed him, the diets that died fast and left him furious, and the ways his waistline kept the belt industry in business.
Take tips from someone who knows how to eat and drink way too much. And how to stop. Peter FitzSimons was a large lad with little self-control who has found the light and finally become lighter. In this book he tells you how and shows you who is responsible for you getting fat in the first place. (Spoiler alert: It's you. And sugar.)
Have you ever wondered which diet works? Well, Peter FitzSimons has devoted his adult life to trying all of them and failing miserably. But you may have noticed this man-mountain has lost a lot of his landspace over the last few years. This is the tale of how that happened and how it can happen to the bloke in your life.
Published:

28 November 2016

ISBN:

9780143781875

Imprint:

Random House Australia

Format:

EBook

Pages:

256
Article
Heavy truths
Peter FitzSimons reveals the deadly consequences of our chubby culture.
Article
Catalyst for change
Lisa Wilkinson reflects on husband Peter FitzSimons' road to better living.