Peter FitzSimons reveals the deadly consequences of our chubby culture.
After devoting his adult life to trying all the diets and failing miserably, Peter FitzSimons got real about his life-expectancy and started putting his health before his bad habits. The Great Aussie Bloke Slim-Down details his rocky trail down from 'fat mountain'. Straight from the pages of the book, here FitzSimons offers a frightening snapshot of a bulging Australia.
 
Over the last quarter of a century, the average weight of Australian men has increased by 6.5 kilograms – about a stone in the old money – and we now tip the scales at an average of 85.9 kilograms. (I know. That still sounds downright emaciated to me, too, but that is just how far you and I have come on our journey up fat mountain.) And women are running us close, with an increase of 5.7 kilograms in that time, to now weigh an average of 71 kilograms.1
But here's the thing.
It is actually no laughing matter.
It's killing us.
The Australian Institute of Health and Welfare reported in 2014 that nine out of ten people currently on their death beds are there because of chronic illnesses, ranging from heart disease to cancer to Type 2 diabetes.2
And here's the thing. ALL OF THOSE can be directly linked to obesity and dangerous eating habits.
And while you really do see heaps of badly overweight men in their 40s, 50s and 60s, you don't see nearly as many in their late 70s and 80s, because the bitter truth is if they haven't got their weight under control by that time, they mostly… die.
I know that's a bit brutal, just saying it like that. But if nothing else makes you understand that this is serious, that we all have to concentrate, surely that alone is worth thinking about?
Most tragic, of course, is the reality that the obesity epidemic is not even restricted to men and women in our age group. As they watch us eat and follow our lead, a quarter of our kids are overweight or obese, while just nudging towards two-thirds of the whole adult population is overweight.
What the hell happened to us, Australia?
We all know the image of the Man from Snowy River, 'racing down the mountain like a torrent down its bed', of the Australian soldiers storming ashore and up to the heights of Gallipoli, of Ashes to Ashes, dust to dust, if Lillee don't get 'em, Thommo must, of being a race of bronzed Aussie lifesavers, with rippling muscles and granite jaws.
Today, the horse would probably buckle under the weight of the Man from Snowy River. And we'd be buggered if someone told us to try and climb those cliffs!
Ashes to Ashes, dust to dust, we can fit into our trousers, but only just.
We were a hardy, lean, athletic people.
These days we make the list of the Top Five Fattest Nations – at least in the front-line of the developed world – on Earth! We're not in control of the calories that come to our beer guts or the manner in which they come. We drive our kids to school, even when it's less than a kilometre away. And while it's a long way to the shop if you want a sausage roll, it ain't so far if you take two tonnes of machinery out on the road to go and get it – as most of us do.
Sure, when it comes to both slothfulness and obesity, we are not yet quite as fat as the Yanks, but that's just like saying Clive Palmer is probably not as annoying as Donald Trump.
Mate, you, me, all of us, as individuals and as a people, have got to get on top of this. Otherwise we will be under the dirt, in the extra-wide comfy coffin, much faster than we think.
1. WWW.ABC.NET.AU/NEWS/2014-02-23/HEART-FOUNDATION-DATA-SHOWSAVERAGE-WEIGHT-INCREASING/5277850.
2. WWW.AIHW.GOV.AU/AUSTRALIAS-HEALTH/2014/ILL-HEALTH/.
---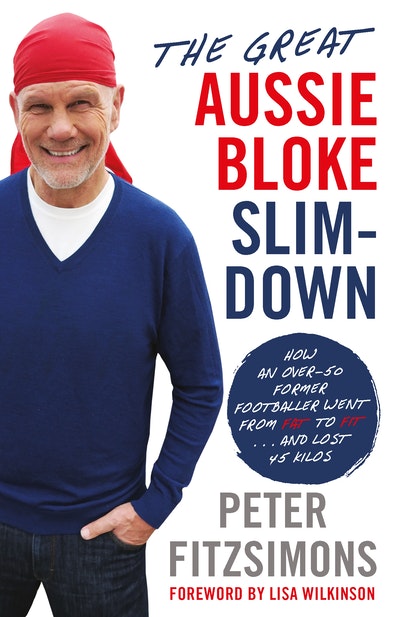 The story of one man who had the guts to lose his gut. This is a book that will finally help an ordinary bloke lose weight. (Don't worry, it has nothing to do with wearing a red bandana.)
Buy now
Buy now
---