Lisa Wilkinson reflects on husband Peter FitzSimons' road to better living.
Hauling his 'weary arse' up one of the highest summits of the Kokoda Track, Peter FitzSimons came to a realisation: if he continued to smoke, eat and drink the way he was, he was destined for an early grave. Giving up cigarettes and coffee came relatively easy. But overindulging in food and alcohol were habits far more difficult to shake. 'I just kept going, getting ever bigger,' he says in the opening to his book The Great Aussie Bloke Slim-Down. He was tipping the scales at 152 kilos when his wife, Lisa Wilkinson, put it to him bluntly, saying: 'Pete, you're too heavy.'
'At least I think it was her and I think that's what she said,' he continues. 'At the very least, there was a certain muffled voice just like hers, coming from somewhere way beneath me, and it said something a lot like that.
'I checked, and by gawd, she was right!'
The Great Aussie Bloke Slim-Down is FitzSimons' story of how he found the self-control needed to change his life and lose his gut. It's a book that he hopes will help ordinary blokes lose weight and live longer.
In the book's Foreword, Wilkinson offers her perspective of her husband finding the catalyst for positive change, and some benefits that extend far beyond his belt size. Here's what she has to say.
By Lisa Wilkinson
While I've always been proud of my husband and his writing, I am particularly proud of this book, and most especially the change in his life, and our marriage, that it documents.
For 25 years I have seen his weight go up and down, invariably, alas, with each up outdoing each down to the point that the 126 kilogram Wallaby second-rower I married in 1992, whose fighting weight had been 114 kilograms only two years earlier, had turned into 152 kilograms of a Whole-Lotta-Love by New Year's Day 2011.
And of course my broad experience has been matched by hundreds of thousands, let's say millions, of women across Australia, and it's been the case for decades. The problem is, what do you do in the face of it?
Nag? Encourage? Give him a gentle talking to, about how you want him to be around for another 50 years, not just another 20? I, frankly, tried all of those – and a couple of others besides – but with no luck. Being moderate in anything is just not in Pete's nature, which, when applied to most things like familial love, work ethic, sport, romance, fatherhood, the Australian republic and having fun, made me fall in love with him in the first place. But not in the eating.
And then there was the drinking.
To be fair, Pete was not a bad man with too much grog in him.
But he was not the man I married. When he drank too much, he became careless of those around him, careless in his judgement, careless in the way he spoke to me, his fuse was shorter, his parenting and partnering so much less energetic, and he was generally much less fun to be around.
Pete never drank at home for the first 15 years of our marriage, but the pressures of book deadlines, of daily journalism, of parenting and his professional speaking commitments, which could involve lunches and dinners as often as four times a week, conspired to mean that knocking back copious amounts of alcohol became part of his life, at home as well.
There were periods when he realised what he was doing, stopped – ceased both eating and drinking to excess, lost weight – and everything suddenly got better.
But the minute he got to his target weight and proved that he could do it, figured he had this whole weight loss, non-drinking thing tapped, he fell into the old trap of going back to living his old life – pass-the-pies and pull-the-cork-out-please – and the weight quickly piled back on.
Every time we talked about it, I'd end up getting precisely nowhere. He'd promise to pull back, and might for a short time, but soon he'd be back to his old overindulgent lifestyle. Until, one day, it was like a light went on, like all the planets suddenly aligned and he worked it out. He worked out how to live the full life he does, always at a million miles an hour, and enjoy it every bit as much as he ever did and more, without over-indulging, without the stress on our relationship, his heart, or even his belt buckle.
And it wasn't me, it was a simple conversation with a mate that did it. (Thanks, Jordan.)
Ultimately I hope The Great Aussie Bloke Slim-Down will be that for the men who read this book – a chat with a mate they can trust, a catalyst for positive change.
It has taken me a while, frankly, to believe that Pete's latest commitment to losing weight was not just one more passing phase, that he wasn't going to revert to the old ways, but, two years in, I am now convinced.
I have a new man on my hands, and in my arms…
He is just like the old man, but lighter, younger, faster, more patient, more fun. And an even better father than he was.
I do hope this book might have a similarly beneficial effect on your partner.
Warmest regards,
Lisa Wilkinson,
Sydney, September 2016
---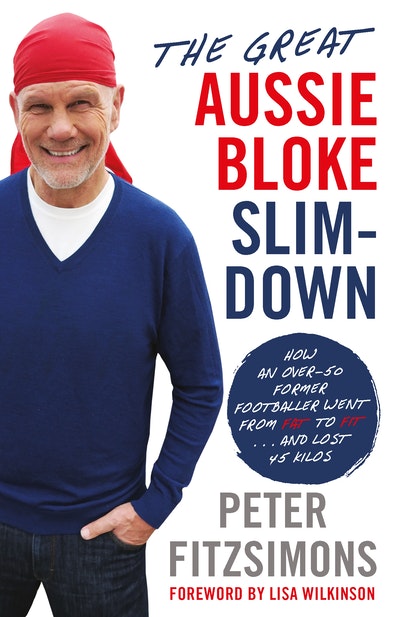 The story of one man who had the guts to lose his gut. This is a book that will finally help an ordinary bloke lose weight. (Don't worry, it has nothing to do with wearing a red bandana.)
Buy now
Buy now
---