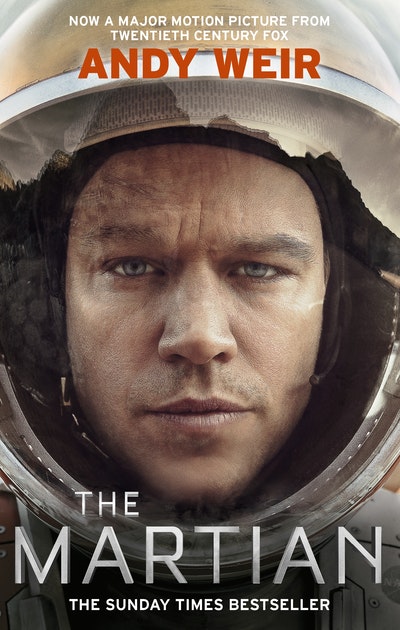 Published:

16 September 2015

ISBN:

9781785031137

Imprint:

Del Rey

Format:

Paperback

Pages:

384

RRP:

$26.00
The Martian
Young Readers Edition
---
---
---
A high concept thriller and genre busting classic, now a major motion picture starring Matt Damon
Robinson Crusoe on Mars
A survival story for the 21st century and the international bestseller behind the major film from Ridley Scott starring Matt Damon and Jessica Chastain.
I'm stranded on Mars.
I have no way to communicate with Earth.
I'm in a Habitat designed to last 31 days.
If the Oxygenator breaks down, I'll suffocate. If the Water Reclaimer breaks down, I'll die of thirst. If the Hab breaches, I'll just kind of explode. If none of those things happen, I'll eventually run out of food and starve to death.
So yeah. I'm screwed.
Andy Weir's second novel Artemis is now available
Published:

16 September 2015

ISBN:

9781785031137

Imprint:

Del Rey

Format:

Paperback

Pages:

384

RRP:

$26.00
Watney's gallows humour and his brushes with death as he uses every ounce of his intelligence and astronaut's training to claw his way out of the pit will have you laughing and gasping by turns. I read this book in a weekend. I didn't think I'd have the time to - but Andy Weir's edge-of-the-seat storytelling didn't leave me any choice.

Richard Madeley, Richard and Judy Book Club
Andy Weir's terrific 'lost in space' novel is an absolute page turner from first to last ... Tautly-written, full of extraordinary and fascinating detail about life in a frozen red desert so far from home, The Martian is one of the best thrillers either of us has read in years. Highly recommended.

Judy Finnigan, Richard and Judy Book Club
The best book I've read in ages. Clear your schedule before you crack the seal. This story will take your breath away faster than a hull breech. Smart, funny, and white-knuckle intense, The Martian is everything you want from a novel.

Hugh Howey, New York Times bestselling author of Wool
The amount of research here is astounding. We're suckers for well-grounded fiction, and on the technical side, The Martian is exemplary ... witty ... funny

SFX
A book I just couldn't put down! It has the very rare combination of a good, original story, interestingly real characters and fascinating technical accuracy…reads like MacGyver meets Mysterious Island.

Astronaut Chris Hadfield, Commander of the International Space Station and author of An Astronaut's Guide to Life on Earth
The Martian kicked my ass! Weir has crafted a relentlessly entertaining and inventive survival thriller, a MacGyver-trapped-on-Mars tale that feels just as real and harrowing as the true story of Apollo 13.

Ernest Cline, New York Times bestselling author of Ready Player One
One of the best thrillers I've read in a long time, an incredible story about an astronaut marooned on Mars. This is no science fiction tale: the technology is beautifully researched and based on what is currently envisioned for a manned flight to Mars. It feels so real it could almost be nonfiction, and yet it has the narrative drive and power of a rocket launch. This is Apollo 13 times ten. I could not put this book down.

Douglas Preston, #1 New York Times bestselling author of Impact and Blasphemy
Strong, resilient, and gutsy. It's Robinson Crusoe on Mars, 21st century style. Set aside a chunk of free time when you start this one. You're going to need it because you won't want to put it down.

Steve Berry
like Gravity meets Robinson Crusoe – utterly nail-biting and memorable.

James Lovegrove
Gripping…shapes up like Defoe's Robinson Crusoe as written by someone brighter.

Larry Niven, multiple Hugo and Nebula Award-winning author of the Ringworld series and Lucifer's Hammer
The tension simply never lets up, from the first page to the last, and at no point does the believability falter for even a second. You can't shake the feeling that this could all really happen.

Patrick Lee, New York Times bestselling author of The Breach and Ghost Country
one of the best survival stories you'll ever read (think Robinson Crusoe on Mars only more extreme).

Martin Sorenson, Publishers Weekly
Sharp, funny and thrilling, with just the right amount of geekery.

Kirkus
Apollo 13-meets-Robinson-Crusoe-on-Mars, and I guess for those who enjoyed the films Gravity or Moon, this one will be a literary equivalent ... I was, in the end, totally won over by this book in its celebration of how humans can deal with anything the harshness of science and extreme environments can pose, and it kept me reading longer than I meant to

SFFworld.com
An impressively geeky debut novel ... the technical details keep the story relentlessly precise and the suspense ramped up

Entertainment Weekly
jaw-clenchingly gripping ... a modern-day Apollo13

Stuff Magazine
one of the most thrilling and absorbing novels I have ever read

Sfcrowsnest
Don't be put off thinking this is a sci-fi book – it's so much more than that. Utterly brilliant.

Bella
Brilliant…a celebration of human ingenuity [and] the purest example of real-science sci-fi for many years…Utterly compelling.

Wall Street Journal
Riveting...a tightly constructed and completely believable story of a man's ingenuity and strength in the face of seemingly insurmountable odds.

Booklist
Weir combines the heart-stopping with the humorous in this brilliant debut novel... the perfect mix of action and space adventure.

Library Journal (starred)
Accomplished…believable but suspenseful as [Watney] battles against the odds for survival

The Guardian
Weir has fashioned in Mark Watney one of the most appealing, funny and resourceful characters in recent fiction ... gripping

Huffington Post
Weir's debut is easily the best SF novel of the year so far

Financial Times
Think Apollo 13 ... on Mars! ... A saga of courage, ingenuity and humour - and utterly convincing thanks to superb research. The best space disaster story since Clarke's A Fall of Moondust.

Stephen Baxter
Weir combines the heart-stopping with the humorous in this brilliant debut novel... the perfect mix of action and space adventure.

Library Journal (starred)
An exciting, insightful science- based tale [that] kept me turning the pages to see what ingenious solution our hero would concoct to survive yet anotherimpossible dilemma

Terry Brooks
Article
Article
Spotify playlists for your reading adventures
We've all been there. . . reading the perfect book, completely invested in a fictional world, only to be disturbed by a neighbour mowing their lawns or the distant sound of dogs barking. Suddenly you're pulled back to reality wondering what on earth happened.