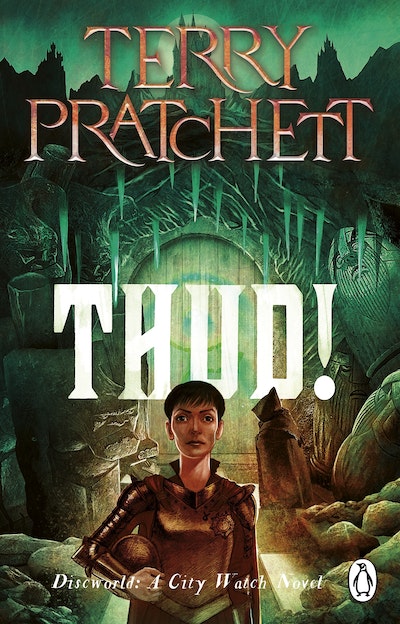 Published:

1 September 2010

ISBN:

9781407035437

Imprint:

Transworld Digital

Format:

EBook

Pages:

464
Thud!
(Discworld Novel 34)
---
---
---
Another brilliant novel in the record-breaking Discworld series
VOTED AS READERS' FAVOURITE DISCWORLD NOVEL IN THE DISCWORLD CUP 2010!
'Some people would be asking: whose side are you on? If you're not for us, you're against us. Huh. If you're not an apple, you're a banana'

When it comes to racial hatred and sectarian violence, the phrase 'vive la difference' is usually one of the furthest from the tip of the mob's tongue. When a whole city is poised on the very brink of anarchy, it only requires one thing to pitch it over the edge. Like the murder of one of the key participants for example...
Published:

1 September 2010

ISBN:

9781407035437

Imprint:

Transworld Digital

Format:

EBook

Pages:

464
Imaginative, witty and consistent - as in consistently funny, consistently clever and consistently surprising in its twists and turnss - Thud! is everything that the 30th novel in a fantasy sequence ought to be, and more.

SFX magazine
Pratchett too requires us to think. Whenever I read his stories I find myself thinking that he is "grown up". He may write benign comedy but he knows how horribly complicated and exciting the Universe is.

A.S. Byatt, The Times
You hardly need to review Pratchett nowadays...you know you can rely on him to be wirtty and quietly wise, and his creations have taken on a life of their own...A series that seems to re-invent itself by natural evolution every time.

Starburst
'Thud! has a serious theme: racial intolerance. That Pratchett can explore this while still making us laugh is a tribute to the integrity of his created world ... Extremely funnym but it's also very near the knuckleduster.'

Scotland on Sunday
Imaginative, witty and consistent - as in consistently funny, consistently clever and consistently surprising in its twists and turnss - Thud! is everything that the 30th novel in a fantasy sequence ought to be, and more.

SFX magazine
Pratchett too requires us to think. Whenever I read his stories I find myself thinking that he is "grown up". He may write benign comedy but he knows how horribly complicated and exciting the Universe is.

A.S. Byatt, The Times
You hardly need to review Pratchett nowadays...you know you can rely on him to be wirtty and quietly wise, and his creations have taken on a life of their own...A series that seems to re-invent itself by natural evolution every time.

Starburst
'Thud! has a serious theme: racial intolerance. That Pratchett can explore this while still making us laugh is a tribute to the integrity of his created world ... Extremely funnym but it's also very near the knuckleduster.'

Scotland on Sunday