A Q&A with Kimberly Andrews, the talented author/illustrator of Puffin the Architect.
What did you want to be when you grew up? 
I think very early on I did want to be a picture-book maker, and I used to staple sheets of paper together into books that I made my family read. But then what I wanted to do was work with orang-utans. I got the opportunity to volunteer in the jungles of Borneo, which was a dream come true. Then picture-book maker seemed to pop back in my head (after a few other jobs)!

Aside from being an author-illustrator, tell us a little bit about the best job you ever had.
The best job I had was at the Natural History Museum in London, UK. I worked in the butterfly house, and was also able to volunteer behind the scenes as a curatorial assistant in the mammal department. I wrapped up very important taxidermy specimens (stuffed animals) for transport and storage. Most of these animals hadn't been touched in years, so they needed a good clean — some were covered in glass shards from when London was bombed in WWII. I even got to vacuum a giraffe! 

What was a moment in your past which inspired what you've ended up doing?
I had a job at a small bookstore in a very fancy mountain hotel in Canada. I had 12-hour shifts, and spent a lot of my time browsing the picture book section. I became known by the parents in the hotel as a go-to for children's book recommendations. It was there, in those long days, that I sketched out my first attempt at a picture book.

We love to see the workspaces of creative people; can you show us yours?
Yes I would love to show you. I live and work in converted shipping containers by the beach in Days Bay. Our tiny house (a bigger shipping container on top) is architecturally designed, but my studio, down below, is still very much a metal box. It suits me well, and if it gets too hot in summer I go for a swim, too cold in winter I put on another layer! 

Describe your working day to us — when's the best time for creating?
When I am working on a picture book, I usually attempt to get up nice and early in the morning, make a cup of tea and head downstairs to my studio, where my illustration set-up is. I will turn on an audiobook and work for a couple of hours on illustrations or text, before I go back upstairs and have my breakfast. Then I begin my day at my other job, as designer/owner at Tumbleweed Tees. I can often fit another couple of hours of illustration in during the day or in the evening before I head off to sleep. 

What was your favourite childhood book?
Winter Story by Jill Barklem has to be my all-time favourite childhood book (in fact, the entire Brambly Hedge series). It began my love of small, secret spaces and cross-sections! Growing up in the Rocky Mountains of Canada, I would spend my days exploring the snowy banks in our backyard, trying to find the tiny, intricate doorways and tunnels that the mice were sure to be living in!
Kimberly in her home workspace.
---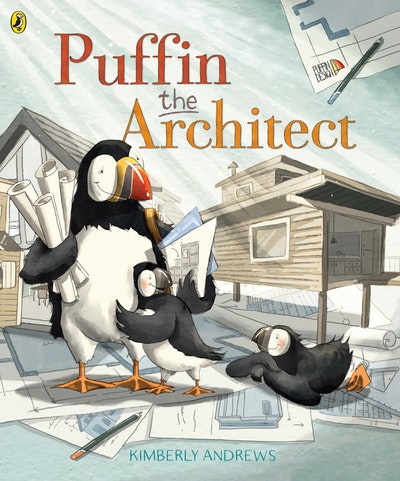 Meet Puffin, a clever architect who always creates the perfect home for her clients. But her newest clients are VERY hard to please!
Buy now
Buy now
---