Amber Rose's take on an Italian classic, taken from Wild Delicious.
I love the lime with the elderflower – the citrusy notes along with the floral elderflower hits all the right places on my palate. It's a substantial cake, yet delightfully moreish and delicate, and it keeps well. If you don't make your own elderflower cordial for the syrup, you can easily find it in most supermarkets.
Pistachio, Elderflower and Lime Cake
Serves eight to ten 
INGREDIENTS
250g coconut sugar
250g unsalted butter, softened
100g ground almonds
150g pistachios, roughly chopped 
3 large eggs
200g fine polenta
1 tsp baking powder
2 tbsp thick unsweetened Greek-style yoghurt 
1 juicy lemon 
Elderflower Lime Syrup 
2 limes
2–3 tbsp runny honey or coconut nectar
150ml elderflower cordial
Creamy Elderflower Icing
2 tbsp elderflower lime syrup (see above)
3 tbsp icing sugar
200g thick unsweetened Greek-style yoghurt
Topping
40g pistachios, chopped
edible flowers such as elderflowers or wild Queen Anne's lace
METHOD
Preheat your oven to 170°C. Grease the base and sides of a 20cm cake tin and line both base and sides with non-stick baking paper. 
Using an electric mixer (a stand mixer is best), cream the coconut sugar and butter together until pale and fluffy. Add the ground almonds and pistachios, mix briefly and then crack in the eggs one at a time, beating each egg in well before you add the next. Add the polenta, baking powder, yoghurt and lemon juice, and fold to combine. 
Scrape the mixture carefully into your prepared tin, then bake for approximately 50 minutes. 
While the cake is in the oven, make the syrup. Finely zest the limes into a small saucepan. Add the juice from the limes along with the other ingredients, and bring to the boil over a medium heat. Simmer for 5 minutes, then remove from the heat. Set aside 2 tablespoons of the syrup in a medium-sized bowl, for the icing, and let it cool. 
Test the cake after 45 minutes, either by pressing lightly on the top – it will spring back if it's done; or by inserting a skewer all the way through the middle of the cake – if the skewer comes out clean, then it's ready. Remove from the oven and place on a heatproof surface. Make a few holes by inserting a skewer or sharp knife into the top in several places, then pour over the syrup. Allow the cake to cool a little before turning out onto a rack to cool completely. 
To make the icing, add the icing sugar and yoghurt to the reserved syrup and whisk to combine. Spread the icing over the cooled cake, top with the chopped pistachios and sprinkle with edible flowers. 
Enjoy with a hot cup of tea. 
---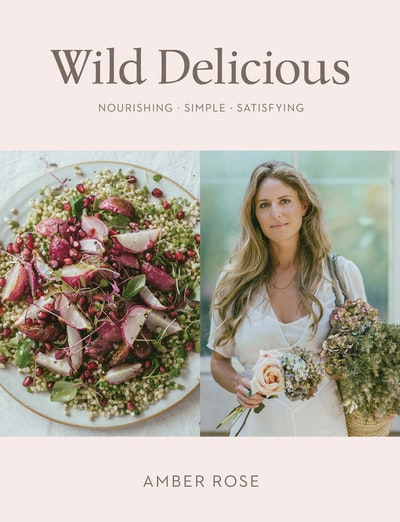 Irresistible dishes made with simple, natural ingredients.
Buy now
Buy now
---