This little beauty of a dish is sure to be a crowd-pleaser – gorgeously colourful with many different textures and flavours.  
The cauliflower base was a revelation when I first discovered it. Once you have it down pat, you can use it as a base for any sort of pizza or galette – it goes with literally any topping. I tend to use smaller pumpkin varieties that have edible skins; these are better suited to this recipe than the big, thick-skinned varieties. Good pumpkins to use are buttercups, small orange Japanese pumpkins and green chestnuts. You don't have to use the pomegranate seeds, but they do add a lovely fruity sharpness to this dish.
Cauliflower Galette with Avocado Cream and Roasted Vegetables
Serves six | Gluten free | Vegetarian 
INGREDIENTS
Roast vegetables
2–3 medium-sized beetroot
just over ⅓ of a smallish pumpkin, with edible skin
thumb of ginger
a squeeze of runny honey
2–3 tbsp olive oil
sea salt and freshly ground pepper
Galette base
1 large head cauliflower
2 eggs, lightly beaten
1 tsp fresh (or ½ tsp dried) oregano or thyme leaves
⅓ cup finely grated Parmesan or a mature tasty cheese 
sea salt and freshly ground pepper
olive oil
Avocado cream
2 avocados, halved and stones removed
1 large clove garlic, crushed
4 or 5 basil leaves, finely chopped
juice of ½ lemon
sea salt and freshly ground pepper
To serve
2 tbsp sunflower and pumpkin seeds
150g feta, crumbled
small handful of radish or coriander microgreens, or chopped fresh basil and coriander leaves 
1–2 tbsp pomegranate seeds (optional) 
METHOD
Preheat your oven to 180°C. 
First roast the vegetables. Peel the beetroot, cut each one in half and then each half into 4 wedges. Cut the pumpkin into 7 or 8 wedges. Place the prepared veg in a roasting pan. Peel the ginger, then grate it and squeeze its juice into a small bowl, discarding the solids. Add the honey and oil to the ginger juice and mix well, then sprinkle over the veg along with some salt and pepper. Roast for about 30 minutes, or until the vegetables are tender all the way through and nicely caramelising at the edges. Be sure to keep an eye on them as they are cooking, as the honey can burn easily. When ready, remove from the oven and set aside. 
While the veg is roasting, make the base. Cut the cauliflower into chunks. In three batches, place in a food processor and pulse until finely chopped and resembling rice. Be careful not to make it too fine, or it will turn into a paste. When all of the cauliflower has been riced, place it in a steamer basket or colander over a pan of boiling water and steam until just cooked, 6–7 minutes. 
Transfer the steamed cauliflower rice onto a clean tea towel or piece of muslin, and squeeze out any excess liquid. It's a good idea to either allow the hot cauliflower to cool before you do this or use washing-up gloves, as the liquid that comes out will be close to boiling hot. Squeeze out as much liquid as you can, wringing really hard, then place the cauliflower pulp in a medium-sized mixing bowl. Use a spoon to spread it out and let it cool to room temperature. 
When the cauliflower has cooled fully, add the eggs, herbs, cheese and a few pinches of salt and pepper, and mix well. Line two baking trays with non-stick baking paper, very lightly oiling both. Spoon half the mix onto each tray and, using your hands, spread and shape the mix into 20cm round pizza base shapes. Place into your hot oven and bake for 15–20 minutes, or until nicely golden at the edges and fully cooked and holding together well. Remove from the oven and set aside. 
To make the avocado cream, scoop the avocado flesh into a clean food processor bowl and mash it slightly. Add the remaining ingredients and blend until smooth. Taste and adjust the seasoning. 
Lightly toast the sunflower and pumpkin seeds in a small, dry frying pan over a medium heat, tossing the pan to stop the seeds from burning. Tip onto a plate to cool. Lay each cauliflower base on a flat wooden board or plate and cover with the avocado cream. Top each base with half of the roasted veg, sprinkle with the crumbled feta, toasted seeds, the microgreens or herbs, and pomegranate seeds (if using). Finish with a sprinkling of flaky sea salt and a few twists of the pepper mill. 
Serve warm or cold. It keeps well for a day in the fridge. 
---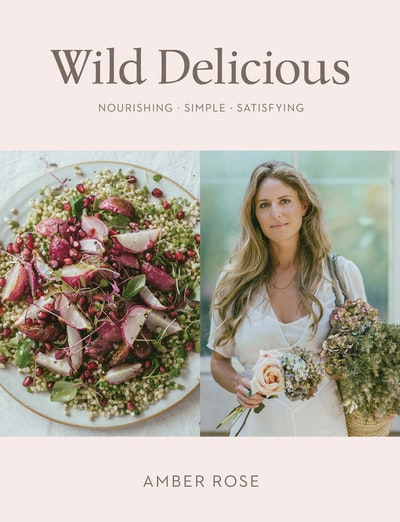 Irresistible dishes made with simple, natural ingredients.
Buy now
Buy now
---