Being a huge fan of cabinet food, we were looking for a good gluten-free, vegetarian alternative to potato cakes to serve for lunch straight out of the cabinet. 
You can prepare these in advance and take them to work, or reheat them when you get home from work, and they are super cheap to make! Actually, once you get the hang of making risotto you can add whatever ingredients you like. Traditionally, a risotto is a bit runny and the rice has a slight bite to it. For this recipe we reduced the liquid right down to have a firmer texture for shaping. We then fry the cakes off on the grill to get that nice dextrinised (browned) flavour coating on the outside. You can top these with a spoonful of citrus crème fraîche, and add bacon, salmon or mushrooms, if you like.
Makes 8 large cakes 
Ingredients 
3 Tbsp olive oil
50g butter
1 onion, diced
2 cloves garlic, minced
1 litre gluten-free chicken or vegetable stock
1⁄2 cup Arborio rice
100ml white wine∙
50g grated parmesan
150g fresh or frozen peas
50g mint leaves
50g mascarpone
2 Tbsp canola oil
100g crème fraîche
50g finely chopped Italian parsley and dill
1 packet (200g) halloumi, sliced and grilled, to garnish
fresh peas, to garnish
If you suffer from Coeliac disease, please choose a wine that uses no gluten in its fining process.
Method
In a large pot, heat oil and half the butter over a low heat. Add onion and garlic, and fry gently for about 15 minutes or until softened but not coloured.
In a separate pot, bring chicken stock to the boil, then keep it hot.
Add rice to onion and garlic and turn up the heat — the rice will now begin to lightly fry, so keep stirring it. After 1 minute it will look slightly translucent.
Add wine and keep stirring.
Once the wine has cooked into the rice, add one ladleful of the hot stock and a good pinch of sea salt. Turn the heat down to a simmer so the rice doesn't cook too quickly on the outside. Simmer, stirring, until the stock has been absorbed.
Keep adding ladlefuls of stock while stirring, allowing each ladleful to be absorbed before adding the next. This will take around 15 minutes. Carry on adding stock until the rice is soft but with a slight bite. Don't forget to check the seasoning carefully. If you run out of stock before the rice is cooked, add some boiling water. You want to cook the risotto until it is thick and will hold its shape when moulded.
Remove the pot from the heat, add remaining butter and the parmesan, then stir well.
Boil peas for 1 minute if fresh or 3 minutes if frozen. Place two thirds of the peas in a blender with the mint, and blitz. Then stir blitzed peas and remaining whole peas into risotto with mascarpone. Taste, and season as needed. Cool the mixture in the refrigerator until it is cold enough to be moulded. 
Divide into 8 using a cup measure sprayed with cooking spray and mould into cakes 3-4cm thick. Heat a frying fan, ideally non-stick, with 2 tablespoons of canola oil and gently fry risotto cakes on each side until golden brown. This takes about 5 minutes. 
Mix crème fraîche with finely chopped herbs and refrigerate until needed. 
To serve, place a risotto cake in the centre of a plate. Top with halloumi and crème fraîche and garnish with fresh peas. 
---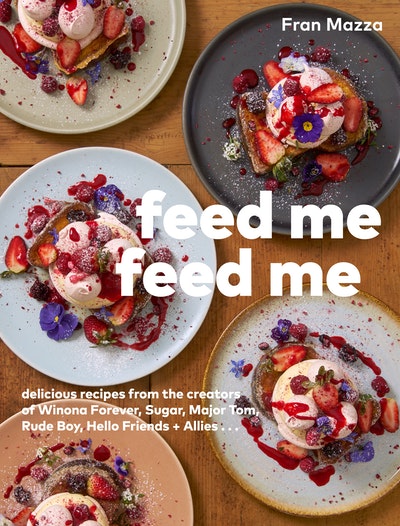 Delicious and accessible recipes from the team that put together a series of successful and hip cafes around Auckland, offering highly Instagrammable dishes.
Buy now
Buy now
---