If you're planning to head to the shops for a last-minute Christmas here's what destitute gourmet wants you to think about! 
While it is possible to actually go to an actual shop here in NZ, (good news); there's very little in them to actually buy (bad news); and even less to buy it with for the many like me, who've taken an income drop this year (worse news). In a final cruel twist, 2020 and Covid-19 have conspired to ensure that this Christmas, everything from freight to fruit pickers has been in desperately short supply, adding a jagged edge to what was already shaping up to be very tricky time of year.
The best news is that even if you have bit less jingle than you anticipated; most people (yes even kids), simply don't remember what gifts they've been given from one year to the next (try to list your top gifts from the last 5 years – see, nothing!). So, the presents really aren't actually that important. Whew! The thing everyone does remember though, is the way we made them feel. So, with that in mind, here are my top 3 tips for a cracker Christmas that won't break the bank.
1. The meal:
What does your tribe actually like to eat? Don't buy foods just because they're traditional. If everyone actually prefers a fab Pav or tipsy Trifle to the spendy fruit pudding of yester-year, then go for the Pav and save the cash. A couple of crispy roast chooks with all the trimmings are much cheaper, quicker and juicier than a turkey, with double the number of drumsticks…
Make it a feel special with table decorations, candle-light, games, family stories and laughter. Meaningful and memorable vs lavish and costly.
2. Get everyone on board, even the kids:
Don't try to pretend everything is the same, be honest and upbeat. Make a Christmas budget and plan together; be a team. This helps manage expectations and avoid disappointments. You can still have presents and surprises, just no nasty shocks when the bills arrive in January. Find different ways to gift in your whanau; sustainable (pre-loved), secret Santa, homemade, lucky dip, $2.00 shop, re-gifting…whatever you all agree on. Then set a budget everyone can manage. And Nana, don't make enormous stockings for the kids to reuse each Christmas – the toys of small children are often large and relatively inexpensive, the toys of teens are minute and eye wateringly expensive, that stocking will seem very empty in a few short years.
3. Stress Less:
Share the load, let everyone know what needs doing, cooking, decorating the table, clean up etc, then ask people what they can manage to do. Don't be a perfectionist, accept all offers and make fun not perfection your goal. If you are having fun, chances are everyone else will too, even if ditzy Aunty Rachel brings a fruit salad instead of a green salad – just laugh, eat and enjoy.
Be sure to keep an eye out for Sophie's latest cookbook Destitute Gourmet which will be available in bookstores January 2020! 
---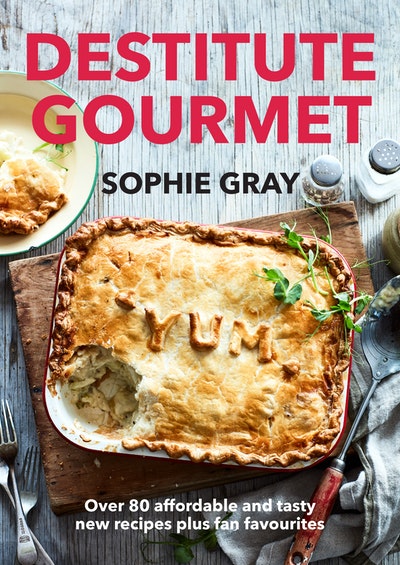 Modern tasty food that's quick and easy to make, with readily available and very affordable ingredients.
Buy now
Buy now
---