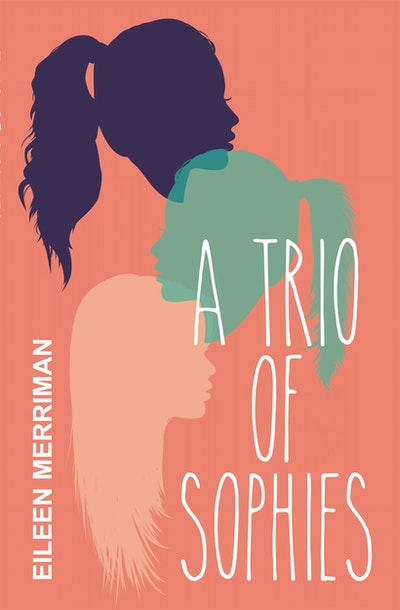 Published:

3 March 2020

ISBN:

9780143774082

Imprint:

Penguin

Format:

Paperback

Pages:

288

RRP:

$19.99
A Trio of Sophies
---
---
---
Secrets, lies and love.
A missing girl, a secret diary and unsettling revelations . . .
Today is the first of September, the first day of spring, and it's been sixty-four days since I last saw Sophie Abercrombie. It's been sixty-four days since anyone saw Sophie Abercrombie.
The prettiest Sophie.
The missing Sophie.
As Sophie MacKenzie - Mac - confides to her diary, she last saw Sophie Abercrombie kissing James Bacon, their English teacher. Mac has passed this on to the police, but there is plenty she knows about James Bacon that she has kept to herself. She hasn't even told Twiggy, the third Sophie in their once tightknit threesome.
The Trio of Sophies is no more.
Published:

3 March 2020

ISBN:

9780143774082

Imprint:

Penguin

Format:

Paperback

Pages:

288

RRP:

$19.99
Praise for A Trio of Sophies
As I mentioned earlier, a theme is Teacher/Student relationships and this story was anything but romanticised. I absolutely endorse this in a Young Adult Section, or High School Library. It could just save a life - and no I'm not being dramatic. It was a book that fifteen-year-old me needed to read, and that twenty-seven-year-old me is glad to have. . . . Absolutely worth the five stars. And the late bedtime.

Krystal B, Goodreads
A Trio of Sophies doesn't so much as start as launch the reader into the centre of a storm that will hold you until the very last secret is solved. . . . Merriman is no stranger to the YA literary scene; consultant haematologist at North Shore Hospital by day and ardent novelist by night, A Trio of Sophies is Merriman's fifth book and her fourth YA novel. This is possibly why, despite being footed firmly in adulthood herself, Merriman can still capture the high school experience with commendable accuracy, from the fizzy excitement of a crush's text to the frustrating pointlessness of a science quiz. . . . Fast-paced and unpredictable, A Trio of Sophies will keep readers on their toes and caught up until the last page. And if it's your first Merriman book, it certainly won't be your last.

Sarah Pollok, Weekend Herald
5 Stars! For me, the story about Sophie A., Sophie M. and Twiggy was an absolute reading highlight, captivating, exciting and nerve-wracking! A clear recommendation for everyone who likes to get lost in intrigues, entanglements and emotions while reading.

https://booknaerrisch.de/missing-sophie/
I think Eileen Merriman is one of the cream of the crop of writers for young people right now. She writes stories that are immediately engaging, that are the perfect pitch for the audience of young adult readers. Her books have depth and breadth and tackle issues which are current and curly. I think this book is one of her best. . . . This is great writing for teenagers, gritty and real, using language which feels right. A brilliant book for all schools to have in their library collection.

Bridget, Goodreads
Wow. This past year has sure been the year for YA thrillers, hasn't it? I DEVOURED this in about 2 hours and didn't stop to put it down once. The pages almost kept turning themselves. . . . If you loved One of Us is Lying, or perhaps A Good Girl's Guide to Murder, then I'm sure you will love A Trio of Sophie's! 5 stars out of 5

Courtney (courtneyandherbooks), Goodreads
This is a great story, full of tension and drama while featuring situations teens might face – abusive relationships being one. The writing is just fantastic and draws you into the story. I just couldn't stop reading and devoured the book in a few hours. Read from front to back, don't give in to the temptation to skip ahead to day 0 or you'll miss vital bits of the story. I highly recommend this book to teens and anyone who wants a great read that will keep you enthralled and on the edge of your seat.

https://akiwisbookreviews.wordpress.com/
This is a page turner make no bones about that. . . . Teenage girls will love it, plenty of first love experiences, feelings and doubts and a male character who is as devious as a ferret. Much to enjoy in this novel. Best New Zealand YA novel of the year so far. Don't miss it you will kick yourself if you do. The ending will make you think. Classy cover.

Bob Docherty, Bobsbooksnz.wordpress.com
Holy. Freaking. Hell. (I got an early copy of this book in return for a review) This book was intriguing from the start, and I started flying through it. It only took me two sessions to finish because I just could not put it down. I absolutely loved the way this book was written out, going backwards through the story was a very unique and interesting way to do it. I was so drawn in to the plot and the characters, and the ending absolutely shook me. I was sort of expecting a light-ish YA novel and it ended up being a very in depth and mildly dark YA book instead. I absolutely loved it, Eileen really knocked it out of the park with this one, it was incredibly addictive and fast paced - a real page turner. 5 stars out of 5.

Victoria, Goodreads
Initial thoughts: wow. I don't think I truly grasped the depth of deception in this novel until the end. A Trio of Sophies is a highly addictive, fast paced read. 4 stars out of 5

Cas, Goodreads
The immersiveness of Merriman's writing makes A Trio of Sophies a good escapist read for lockdown . . .

Elizabeth Heritage, Sunday Star-Times
Wow this was such an interesting book to read! . . . I read this book really quickly and enjoyed the plot a lot. It was refreshing to read a book based in New Zealand (woohoo!!) and it made it really easy to read. Plot twists and a LOT of revelations kept me on my toes and made me want to keep going. This would be such a great summer read - perfect for the beach! 4 stars out of 5

Chloe E, Goodreads
A novel written for teenage readers, this book delivers a tale of secrets, lies and love.

EastLife
This is a book that combines a strong narrative voice, a compelling story line and a mystery all in one. Told in episodic diary form, backwards in chronological order, this book is hard to put down. . . . The book deals with mature themes including sex and domestic violence but because the story is told in diary form there is nothing cliched about the handling of the big issues. This literally is a book that I personally enjoyed reading and would be comfortable about recommending to Senior students, specifically girls. The writing was clever and sophisticated but still had a voice that would resonate with young women . . . Highly recommended

Judith Harstone, HOF English, James Cook High School, Auckland, Read NZ Te Pou Muramura
This is a skilful, very readable book for all ages.

Linda Thompson, Katikati Advertiser
This is definitely a book for the older range of young adult readers, not for your ahead-of-their-age-reading-level intermediate kids. But for that 15+ audience, A Trio of Sophies is a absolute page-turner. Intrigue, mystery, outrage.

The Sapling
The structure of the novel is excellent, complex and mind bending. And the reader is finding out crucial information right up until the end. It is an engrossing read, and occasionally you get a glimpse of the innocent last year of high school which might have been had Mac not gone running that fateful day. A Trio of Sophies is marketed as a young adult novel, and would suit the older range of that category, and adults.

Alyson Baker, Nelson Public Libraries
Told in three parts – going backwards in time, then forwards, ending with a heart-stopping conclusion. Intriguing. Loved it.

Adele Broadbent, whatbooknext.com
Storylines Notable Book Award
Awarded • 2021 • Storylines Notable Book
Ngaio Marsh Award
Shortlisted • 2021 • Ngaio Marsh Award