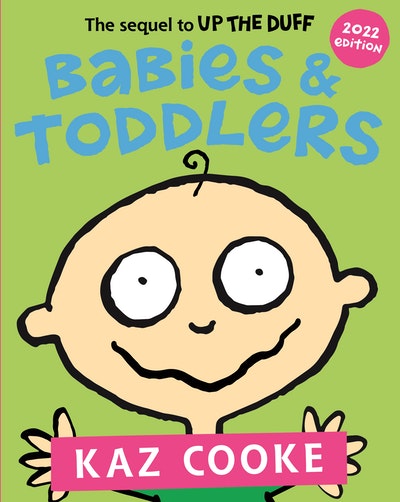 Published:

19 November 2018

ISBN:

9780143788607

Imprint:

Viking

Format:

Paperback

Pages:

536

RRP:

$48.00
Babies & Toddlers
The Sequel to Up the Duff
Extract
Hello there.
So, you've finished reading Up the Duff: The Real Guide to Pregnancy, and now you've thrown it at the wall and you're shouting 'Yes, but what do I do now the bloody baby has arrived, you dreadful slattern?!' Hey, I get it, you're sleep deprived and need to know which end to put the nappy on. So here's the sequel, all about what to do with babies and toddlers. Some people say we shouldn't need a book, we should just follow our 'instincts' like animals do. Piffle. Some lions eat their cubs – which I don't recommend – and squid never even meet their own children. If you want to take toilet training advice from a crocodile, you're on your own, sunshine. None of us are born with parenting skills and instincts, we develop them.
It can be scary being a new parent. The good news is, you're already a good parent, because you care enough to look at a book about it. And this is the safest time ever in history, and one of the very best places in the world to have a baby. Immunisation, medical care and good food mean your baby already has a huuuuge head start in life. What isn't so good is that lots of modern parents, especially mums, can feel more isolated and alone, and online 'information' can be dodgy, advertising, or just plain bonkers.
That's why I've made sure that all the info in this book has been checked by medical experts, is parent and kid friendly and uses evidence-based suggestions. You get to choose what ideas and solutions suit you. Lots of real parents have shared their tricks, too.
You can read Babies and Toddlers all the way through in order, as you probably did with Up the Duff. Or, more usefully, just read the bits you're up to, or the bits you need at the time. Look up the index to deal with problems as they arise ('poo, explosive', for example, is under P).
You won't need to know everything at once. You can start with Part 1: Your Baby, and then move in an orderly fashion to Part 2: Your Toddler. But don't forget Part 3: Everything Else You Need To Know, which contains the other sections that cover both baby and toddler stuff: safety, equipment, common health scares, immunisation, food and, yay, birthday presents.
Different versions and printings of this book, Babies and Toddlers, have been around for nearly twenty years: some earlier versions were called Kidwrangling. Please don't sell or pass on any copies of Kidwrangling or Babies and Toddlers or Up the Duff to somebody else, and please don't borrow or buy second-hand copies yourself. A second-hand or old book will not have the best up-to-date medical, safety and other info. Old medical information can be dangerous, especially when it comes to babies and children.
This book will be regularly reprinted with medical and other updates. Check the circle on the cover, which will show the year it was printed. To have the most up-to-date edition, the year shown should be the most recent.
I hope you'll find Babies and Toddlers useful, fun and easy to read in a quiet moment or a slight panic. I hope it becomes your friend, and helps you to feel calmer and more confident about being a parent or carer. And that it gives you a laugh here and there. If not, I plan to have a complete tantrum (under T in the index).
---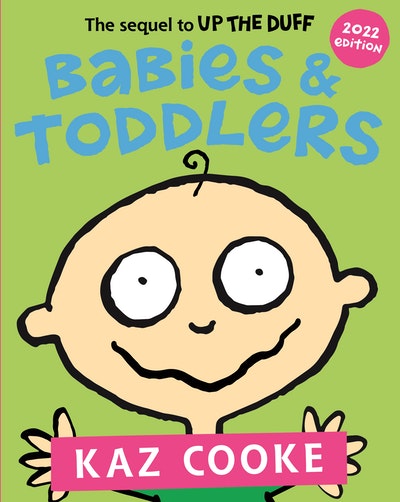 The sequel to Up the Duff – the essential guide to the care of babies and toddlers, from Australia's most loved and trusted voice for parents and carers.
Buy now
Buy now
---