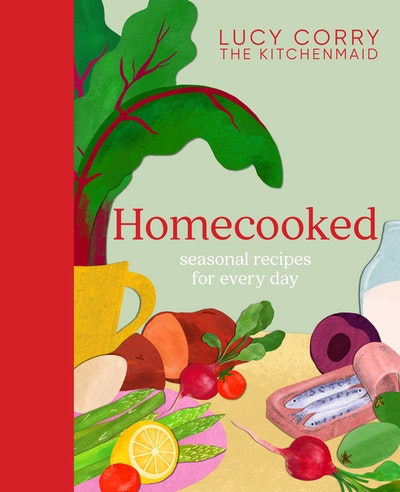 Published:

19 October 2021

ISBN:

9780143776451

Imprint:

Penguin

Format:

Hardback

Pages:

320

RRP:

$55.00
Homecooked
Seasonal Recipes for Every Day
---
---
Everyday recipes for every New Zealand season and every occasion, this is real food for how we really live - our ingredients, our seasons and our way of life.
'Lucy is a brilliant food writer. You will love her simple, seasonal and flavourful recipes, just as I do.' (Nadia Lim)
"Whenever I see Lucy's name on a recipe, I stop and read it. Even if I don't get as far as the stove, I know it will be delicious to think about." (Lois Daish)
Beautiful, honest and useful, Homecooked is the debut by an award-winning food writer that satisfies our hunger for seriously cookable New Zealand recipes.
In this book, Lucy Corry shares hundreds of original recipes, inspired ideas and wise ways to use our flavoursome produce on every occasion, every day, through every season of the year.
Like Lucy's popular Kitchenmaid site and 'Three Ways With' column, Homecooked is brilliantly written, funny and trustworthy, with an emphasis on using (and using up!) real, fresh and accessible ingredients.
This is enticing, truly good food that reconnects us to home.
Includes:
Spring: Asparagus — Broad beans — Carrots — Chicken — Cream — Eggs — New potatoes — Strawberries — Whitebait — Foraging — Spring feasts
Summer: Beans — Courgettes — Cucumbers — Eggplant — Fish — Tinned Fish — Lamb — Peppers — Stonefruit — Sweetcorn — Tomatoes — Salad days — Summer drinks — Summer feasts
Autumn: Apples and pears — Feijoas — Fennel — Figs — Mushrooms — Nuts — Onions — Pork — Pumpkin — Condensed milk — Autumn feasts
Winter: Beef — Brassicas — Celery — Chocolate — Citrus — Kumara — Lentils — Frozen peas — Potatoes — Porridge — Black Doris plums — Winter feasts
Published:

19 October 2021

ISBN:

9780143776451

Imprint:

Penguin

Format:

Hardback

Pages:

320

RRP:

$55.00
Article
Article
Jenny's famous butterflied barbecue lamb
This recipe, from my wonderful sister-in-law Jenny Corry, is world famous in my family. Stick rigidly to the instructions to end up with perfectly cooked lamb. The varying thickness of the joint means that some bits will be well done while others are delectably pink.
Article