This is a fast and fabulous dinner — put the pasta water on to boil as soon as you get home, keep your wits about you and in under 30 minutes you will be sitting down to eat.
SERVES 4
PREP TIME: 15 MINUTES
COOK TIME: 15 MINUTES 
Ingredients: 
400g dried penne pasta
120g butter
500g fresh asparagus, ends trimmed, cut into penne-sized lengths
freshly grated zest and freshly squeezed juice of 1 lemon
2 handfuls of fresh flat-leaf parsley, finely chopped
freshly grated pecorino or Parmesan cheese, or crumbled feta, for serving
Method: 
Cook the penne in a large pot of boiling salted water until just al dente— about 11 minutes. Drain, reserving about 1/3 cup of the cooking water.
While the pasta is cooking, melt the butter in a large, heavy frying pan. Add the asparagus and stir-fry until it turns bright green. Remove the asparagus and set aside. Keep the pan on the heat and let the butter continue to cook until it is golden brown and smells nutty (about 5–8 minutes).
Add the cooked penne to the pan along with the asparagus, a splash or two of the pasta cooking water and a squeeze of lemon juice. Toss together over the heat until well combined. Divide between four warmed bowls and scatter the lemon zest and parsley over. Serve immediately, and let everyone add grated or crumbled cheese to taste.
---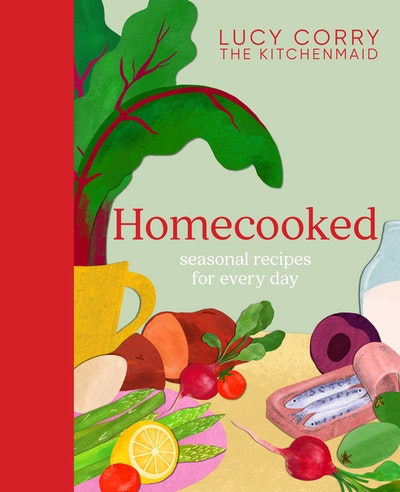 Everyday recipes for every New Zealand season and every occasion, this is real food for how we really live - our ingredients, our seasons and our way of life.
Buy now
Buy now
---