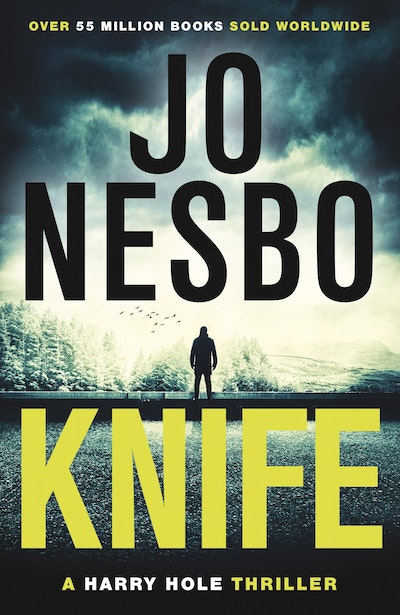 Published:

11 July 2019

ISBN:

9781473559936

Imprint:

Vintage Digital

Format:

EBook

Pages:

640
Knife
Harry Hole 12
---
---
---
KNIFE is the brand new Harry Hole thriller from Jo Nesbo where Harry will come face to face with a deadly foe
The brand new Harry Hole thriller from Sunday Times number one bestseller Jo Nesbo.
JO NESBO. 40 MILLION COPIES SOLD WORLDWIDE.
'Nesbo is one of the best thriller writers on the planet' Daily Express
A man like Harry had better watch his back...
Following the dramatic conclusion of number one bestseller THE THIRST, KNIFE sees Harry Hole waking up with a ferocious hangover, his hands and clothes covered in blood. Not only is Harry about to come face to face with an old, deadly foe, but with his darkest personal challenge yet.
The twelfth instalment in Jo Nesbo's internationally bestselling crime fiction series.
Published:

11 July 2019

ISBN:

9781473559936

Imprint:

Vintage Digital

Format:

EBook

Pages:

640
[Knife] may be Nesbo's best storytelling yet. It's not just clever; it's diabolical, and let's be glad it is, because the corkscrewing plot provides a measure of relief from the pain on view in this uncompromisingly intense and brilliant novel

Booklist
Knife shows Nesbo back on form… This is a police procedural that breaks the bounds of the format with abandon… Nesbo manhandles the reader into contented…submission

Barry Foreshaw, Financial Times
Knife sees the return of Harry's old nemesis Svein Finne… The plot never goes the way you think it will, as Nesbo delights in playing tricks on the reader

Cole Moreton, Mail on Sunday
This is Scandi noir as dark as obsidian with an emotional wreck of a protagonist

i
You can imagine the worst (and you will probably be right), but the brilliant Jo Nesbo will surprise you anyway. Knife is the most unpredictable novel in the [Harry Hole] series

Forbes, Russia
The sharp-as-a-knife Nesbo at his best. A first-class mix of thriller and murder mystery . . . Nesbo has done it again . . . Knife is a fantastic and exhilarating suspense novel

Dagbladet
Skilfully plotted…Nesbo…uses the vast, cold landscapes of Norway to excellent effect in building dread

Ella Walker, UK Press Syndication
Nesbo indulges his unique, deliciously horrible vision of the world once again

Jake Kerridge, Daily Mirror
The twists play out brilliantly [in Knife]; the translation by Neil Smith is flawless. This is the king of Norwegian crime on top form

Observer
Nesbo works his magic as this angsty thriller heads to its tense denouement. Fans of the Scandi crime sensation won't be disappointed

Deirdre O'Brien, Sunday Mirror
Nesbo, sharp-witted as ever, keeps the complex, burnished narrative…a knife-edge… Nesbo remains the king of Scandinavian noir

Mark Sanderson, Evening Standard
Nesbo weaves the strands of his elaborate narrative with the ease of a gifted storyteller, tantalising the reader with misdirections and a plateful of red herrings. Yet it's remarkable how quickly he can disentrangle an intricate plot. And momentum? He's a genius at that – the 500-plus pages just fly by… never underestimate Nesbo – he's a writer with a seemingly endless supply of stories to tell

Debra Craine, The Times
Intricately plotted, with sudden twists and startling developments

Joan Smith, Sunday Times
Another fast-moving Scandi page-turner from Nesbo

UK Press Syndication, *Summer Reads of 2019*
Nesbo…delivers a perfect blend of thriller and police procedural packed with suspense heartbreak and intrigue, never going where you expect it to… Nesbo is one of the best thriller writers on the planet and Knife may well be his best novel yet

Jon Coates, Daily Express
Enjoy his [Nesbo's] unique, deliciously horrible vision of the world once again

Jake Kerridge, Sunday Express
A real page turner which will give you sleepless nights as you race towards an immensely satisfying conclusion after many twists and turns and a whole host of suspects

Trevor Tubby, Eastern Daily Press
[The] most gripping case yet. Gloriously twisted

Daily Express
Arguably Nesbo's best yet… Knife is the perfect blend of police procedural and a thriller packed with suspense, heartbreak and intrigue

Jon Coates, Daily Mirror