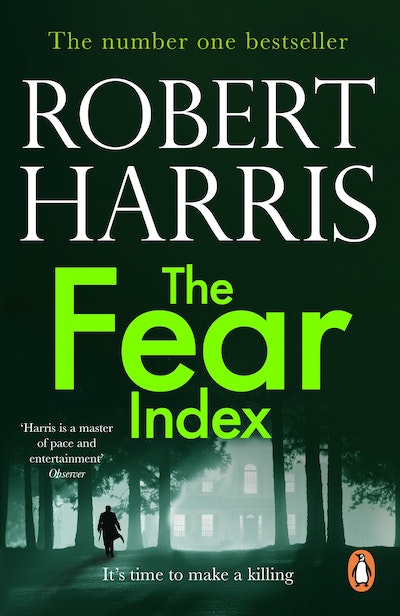 Published:

1 June 2012

ISBN:

9780099553267

Imprint:

Arrow

Format:

Paperback

Pages:

400

RRP:

$26.00
The Fear Index
Now a major TV drama
---
---
---
The gripping new race-against-time financial thriller, from the award-winning master of the literary thriller genre: Robert Harris. Shortlisted for the Ian Fleming Steel Dagger for best thriller of the year at the 2012 Specsavers Crime Thriller Awards.
___________________________
SOON TO BE A SKY ORIGINAL DRAMA
Meet Alex Hoffmann: among the secretive inner circle of the ultra-rich, he is something of a legend.
Based in Geneva, he has developed a revolutionary system that has the power to manipulate financial markets. Generating billions of dollars, it is a system that thrives on panic - and feeds on fear.
And then, in the early hours of one morning, while he lies asleep, a sinister intruder breaches the elaborate security of his lakeside home.
So begins a waking nightmare of paranoia and violence as Hoffmann attempts - with increasing desperation - to discover who is trying to destroy him - before it's too late ...
Published:

1 June 2012

ISBN:

9780099553267

Imprint:

Arrow

Format:

Paperback

Pages:

400

RRP:

$26.00
Praise for The Fear Index
The Fear Index could scarcely be more of the moment

The Times
Harris is a master of pace and entertainment, and The Fear Index is a thoroughly enjoyable book . . . Read the book.

Observer
The Fear Index is an escapist thriller to rank with the best of them, and as a guide to what hedge funds actually do, it is surprisingly clear and instructive.

Economist
There are moments when this book feels so up to date it could have been written next week... spookily exciting.

Express
I would recommend The Fear Index, the new novel by Robert Harris that delves into the world of modern finance. The writing is as elegant as ever

Lionel Barber, Financial Times
Perhaps the greatest thriller writer around, Harris has delivered his best work yet. A modern classic.

Irish Examiner
In The Fear Index , the latest thriller by Robert Harris, now heading for the Christmas bestseller lists, a brainbox hedge fund manager with little in the way of interpersonal skills discovers that his computer-driven trading system has flown out of control and threatens to send the world's stock markets into a tailspin. Anyone familiar with Mary Shelley's Dr Frankenstein will recognise the genre of the oddball genius consumed by his own creation - populist fiction at its best.

Spectator
In Harris's latest thriller, the absurdly gripping The Fear Index . . . Harris's great skill is to inhabit fully and convincingly the worlds he writes about - whether Cicero's Rome, modern-day Russia or Swiss high finance - showing off his vast research yet never allowing the white-knuckle narrative to lose momentum.

New Statesman
Robert Harris is renowned for his historical novels, although his eighth offering, The Fear Index, could hardly be more contemporary and relevant . . . Harris writes with a deceptively languid elegance, so that the novel straddles not only the crime and sci-fi genres but also that of literary fiction. A satisfying read on a number of levels, it is strongest as a character study of a man who discovers, pace Hemingway, the true meaning of the phrase "grace under pressure".

Irish Times
VIXAL-4 succeeds partly by keeping a close eye on the news and clearly so does Harris: the plot ingeniously combines a number of recent phenomena (financial, political, online, artistic) covered by journalism . . . Grippingly dramatising the workings of the economy (I understood for the first time how hedge funds work), The Fear Index is in another sense, an economic novel, not merely in its condensed time-scheme but its sparing wordage.

Guardian
Robert Harris's thriller covers a single day in Dr Hoffman's life - May 6, 2010 (the date of the last British general election) - when it all goes wrong, or rather, which is more frightening, when it all goes dramatically, unstoppably right . . . The Fear Index is a frightening book, of course, as, with its title, it intends. Harris has an excellent sense of pace, and understands as much about fear in literature as Hoffman does in markets.

Telegraph
Part techno-thriller, part psychological drama, The Fear Index is as gripping a tale as anything Robert Harris, described as Britain's most bankable author, has written. Quite different from anything he has done before, it crackles with energy and invention, and the author's obviously extensive research into the arcane world of state-of-the-art computing technology, algorithms, trading and hedge funds is dished up lightly and intelligibly.

Irish Independent
Robert Harris's new thriller is both gripping and chilling . . . For someone with little knowledge of how the markets work, The Fear Index is illuminating but terrifying as our reliance on flickering numbers is revealed. Even hardened financial traders will find the idea of guineas kept under the mattress an attractive prospect by the end, but no-one should miss this terrifying book.

Country Life
In Harris's latest thriller Dr Alex Hoffman creates an algorithm that anticipates emotional effects on stock markets, but his life takes a dark turn when his mansion is burgled. Prepare for goosebumps.

Stylist
Robert Harris is our literary Alfred Hitchcock. Just as the portly man with the voyeuristic mind for murder went for years under the label of "entertainer" before the brass plaque of "genius" was screwed onto his pediment, so Robert Harris is a "thriller writer", but in time his canon will be viewed as something far greater . . . What I so admire about Harris as a writer is the surface shine of his prose. It is muscular, utterly functional but still capable of poetry when necessary. George Orwell said that good writing was like a pane of glass through which the reader can see the action. With Harris, we get to see it in 3D.

Scotsman
Set on election day 2010, Robert Harris's latest novel is a combination of ripping yarn, political and historical verisimilitude and diligent research into a hither-to closed world.

Guardian
A fine dystopian parable, especially impressive for the fact that instead of giving up on what really goes on in most banks and hedge funds and making them a mere back drop for money-laundering and ancillary skulduggery, as many thriller-writers have done, his heart of darkness is the thing itself. The drama contains, as he notes in the acknowledgments, "Gothic flights of fantasy" - the story reminiscent of everyone from Michael Crichton to Ian Fleming, Stanley Kubrick and Alfred Hitchcock. Yet there is an uncomfortable core of reality there . . . Quite a few Financial Time readers will, I suspect, not only savour The Fear Index, but wince with recognition.

Financial Times
Robert Harris's new novel The Fear Index races along as a thriller of high finance set during a single day: that of the Flash Crash. I have to obey spoiler-alert protocols at this point, because it is very hard to summarise what Harris so grippingly achieves through this material without letting some cats (Schrödinger's, perhaps?) out of the bag. So, if you prefer, look away now and read the book. You will do so very rapidly.

Independent
Harris wears his considerable research lightly. The prose is as crisp as ever, while the plotting accelerates at Hadron Collider pace.

Mirror
For many of us, share prices are strings of dry, indecipherable figures ticking across hi-tech screens. But when stock markets tank, how quickly we become infected with the moist primal of emotions: sick confusion, clammy dread, coldest fear. Expertly mining this deep unease, Robert Harris's thriller presents a fictional nightmare that feels like a wake-up call . . . The novel has a sophistication that lift's beyond banker-bashing. Harris takes aim at a corrupted system from a moral and intellectual height that practically induces vertigo.

Sunday Telegraph
Imagine a computer that can hack into terrorist cells and air-traffic control, sniff out world disasters before they happen and cash in on the fear they generate. Marry this development by an American IT nerd to a smoothly British hedge-fund manager, and the result is untold riches . . . Robert Harris's first contemporary thriller since The Ghost, is an ingenious and vivid parable of our times.

A.N. Wilson, Reader's Digest
The brief flicker of ambivalence about the period is stage-setting for a tour de force exercise in regenerating a classic. Taking a scenario as up-to-the-minute as a news flash from the money markets, The Fear Index gives it the scary features of Mary Shelley's 1818 shocker Frankenstein . . . Like Frankenstein, his novel is a tale of the catastrophic consequences of galvanising inanimate matter into uncontrollable life . . . The Fear Index is both cutting edge and keenly conscious of its literary predecessors. Reworking classic texts is a large-scale literary industry these days. Harris's tongue-in-cheek flesh-creeper (whose most chilling moments are its reminders of our present financial woes) is a virtuoso specimen of it.

Sunday Times
Like all Harris's books, this one is readily enjoyable as a suspense story . . . But what makes Harris's thrillers so much more rewarding than those of his rivals is that they all, whatever their ostensible subject, come out of his deep and expert interest in politics, broadly conceived - which is to say, in power, in how power is taken, held and lost; how some people are able to dominate others; how wealth and status, fear and greed, work . . .The Fear Index (which has a lot to say about the very rich - a group to which Harris himself now belongs but doesn't like) is ultimately a study in the total lack of morality of those who manipulate the markets . . . By focusing thus on a rogue algorithm and a pure scientist, Harris is not really fronting up the true authors of our current financial plight, perhaps. But, in its own carefully conceived terms, The Fear Index is certainly another winner.

Evening Standard
Mock-gothic variant on Frankenstein relates what happens when a computer programme goes rogue and ravages the money market. Suspense and satire combine in a book that is as up to the minute as a news flash.

Sunday Times
If you didn't catch it in hardback, grab it now in austerity-Britain paperback. Harris's latest bestseller is a gripping, funny and timely tale of money – losing it or, more terrifyingly here, making too much of it… A high-speed plot, deft characterisation… and Harris even manages to explain what a hedge fund is.

The Lady