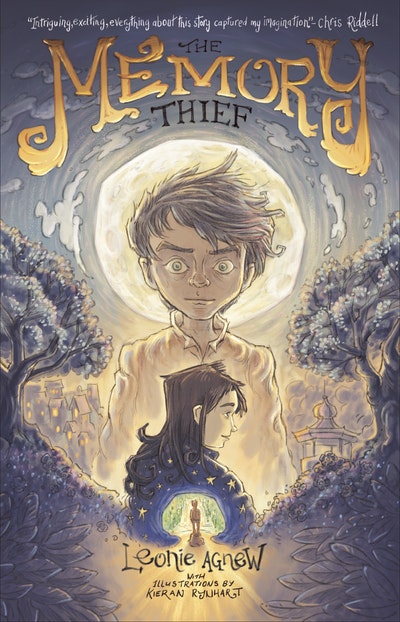 Published:

2 July 2021

ISBN:

9780143775720

Imprint:

Puffin

Format:

Paperback

Pages:

256

RRP:

$19.99
The Memory Thief
---
---
---
A magical, award-winning novel about a girl who wants to escape her memories and a troll who is desperately trying to remember his, from the acclaimed author of Conrad Cooper's Last Stand and The Impossible Boy
A lonely troll and a fierce, spiky girl form an unlikely alliance in Leonie Agnew's extraordinary novel for children aged 9 years and up.

Seth has been trapped behind the iron bars of the public gardens for as long as he can remember. By day he's frozen as a statue of a shepherd boy, but as soon as the sun sets he roams the park, ravenously hungry. He is a troll, and the food he seeks is human memories.
Then he meets Stella. There's something so different about her — Seth doesn't want her memories. He simply wants to talk to her. But there's someone else in the garden who sees Stella as a threat...and a meal.
Captivating, spine-tingling and surprising, this is a novel that holds you spellbound. What is Stella trying to forget? What are the memories that Seth is piecing together? And will he ever escape the lonely garden and start truly living?
Published:

2 July 2021

ISBN:

9780143775720

Imprint:

Puffin

Format:

Paperback

Pages:

256

RRP:

$19.99
Praise for The Memory Thief
All Stella wants is to leave her memories behind, while Seth is desperately trying to remember his. These two characters are so vividly developed that they leap off the page, and readers will find themselves empathising especially with narrator Seth, who fights against his troll instinct to devour human memories, to instead offer Stella kindness and companionship through a difficult time. Their improbable allegiance is delicately constructed and wonderfully heartwarming ... and ultimately full of hope and redemption. The language is rich yet accessible, making it perfect for middle-grade readers at all levels who like to get swept away with a story. Coupled with enchanting illustrations by Kieran Rynhart, this story is sure to be cherished by young fantasy fans.

Karys McEwen, Books + Publishing
It's a text that sticks with you after reading it. ... Agnew's The Memory Thief solidifies her position as a writer of note in New Zealand.

Chris Reed, NZ Booklovers
A beautiful examination of what makes you human and the power of sharing stories.

Sarah Forster, The Sapling
This book speaks of the power of memory to shape and nourish us as human beings. To build strength and empathy...The Memory Thief is a terrific mix of racing-heart as you read, cool characters, plot tension, intriguing twists and turns, brain-feeding ideas …. and it is so sweetly written. Glorious.

Paula Green, Poetry Box
A finely-wrought and adventurous tale of knowing yourself, friendship and difficult choice.

Crissi Blair, Family Times
The Memory Thief is a mysterious book, to say the least, and the cover is magical! The author's style of writing is easy to read and emotive... there are fun parts and then such sadness too. She uses beautifully descriptive language, so it is easy to build the scenarios in your head! The beautiful sketched illustrations add to the magic of the story.

HAELYN, 13, Green Bay School, Auckland, Upstart Magazine
Once you start reading you will not want to stop.

Bob Docherty, Bob's Book Blog
This book is up there for my Book of the Year.... I absolutely adored it from go to woah, and as I read I could picture it as a Tim Burton movie - dark, atmospheric, quirky, complex and utterly brilliant. ... This is not a simple story, with simple solutions. It requires depth of thought about some serious subjects... the nature of friendship, memories, sadness, dementia, death, bullying... and not everything is tied up neatly at the end (sequel?? Yes please!!)

Southwellylibrary.blogspot.comq
Leonie Agnew has done it again, giving readers an imaginative, thought-provoking novel (this time with a bit of creepy stirred in). Memories are important to us all, even the bad ones - but you'll have to read The Memory Thief to learn why. Based on a Scandinavian Troll myth, The Memory Thief is set in a NZ garden where tui call out over the characters and geckos scramble around concrete statues. The opposite natures of the characters draw you into their friendship, as you get to know Seth (Main POV), and wonder about Stella's past. Sometimes what you wish for isn't really what you want. Tension and awareness build up to a nail-biting and unexpected conclusion. Brilliant NZ Children's fiction

Whatbooknext.com
Storylines Notable Junior Fiction Award
Awarded • 2021 • A Storylines Notable Book
Article
Real Readers Review: The Memory Thief
Former British children's laureate, Chris Riddell, has said The Memory Thief is "Intriguing, exciting, everything about this story captured my imagination." But what do our Puffin Ambassadors think? Read on to find out!
Teachers' notes