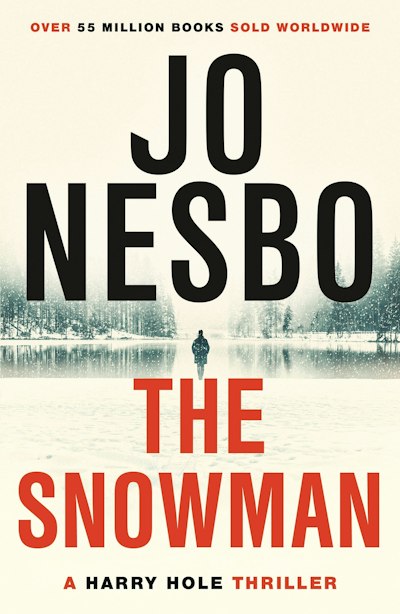 Published:

2 January 2015

ISBN:

9781784700928

Imprint:

Vintage

Format:

Paperback

Pages:

576

RRP:

$26.00
The Snowman
The iconic seventh Harry Hole novel from the No.1 Sunday Times bestseller
---
---
---
When the first snow falls, Harry Hole is confronted by a terrifying murderer who will push him to the edge...
**THE No.1 SUNDAY TIMES BESTSELLING AUTHOR**
'Chilling, spectacular stuff... anyone looking for serious, and seriously compelling, crime writing need look no further' Mark Billingham
SOON THE FIRST SNOW WILL COME
A young boy wakes to find his mother missing. Outside, he sees her favourite scarf - wrapped around the neck of a snowman.
AND THEN HE WILL APPEAR AGAIN
Detective Harry Hole soon discovers that an alarming number of wives and mothers have gone missing over the years.
AND WHEN THE SNOW HAS GONE
When a second woman disappears, Harry's worst suspicion is confirmed: a serial killer is operating on his home turf.
...HE WILL HAVE TAKEN SOMEONE ELSE
*JO NESBO HAS SOLD OVER 50 MILLION BOOKS WORLDWIDE*
*Watch out for The Jealousy Man, the dark and twisted new collection of crime stories from Jo Nesbo available now*
Published:

2 January 2015

ISBN:

9781784700928

Imprint:

Vintage

Format:

Paperback

Pages:

576

RRP:

$26.00
Other books in the series
Every now and then, a truly exceptional crime novel come along... This superb novel...deserves comparison with the first volume of Stieg Larsson's Millennium trilogy

Joan Smith, The Sunday Times
Every now and then, a truly exceptional crime novel come along... This superb novel...deserves comparison with the first volume of Stieg Larsson's Millennium trilogy

Joan Smith, The Sunday Times
The Snowman is a superb thriller. Jo Nesbo is astonishingly good; he knows how to grab you, by the throat and by the heart

Jeff Abbott
The Snowman is a superb thriller. Jo Nesbo is astonishingly good; he knows how to grab you, by the throat and by the heart

Jeff Abbott
This is chilling, spectacular stuff and anyone looking for serious, and seriously compelling, crime writing need look no further

Mark Billingham
This is chilling, spectacular stuff and anyone looking for serious, and seriously compelling, crime writing need look no further

Mark Billingham
Chillingly adept...creepy, creepy stuff from the very first page

Time Out
Chillingly adept...creepy, creepy stuff from the very first page

Time Out
Nesbo, in his fifth, most wide-ranging novel, gradually tightens the narrative grip until, throughout the last 100 pages, the reader also finds it hard to breathe

Mark Sanderson, Evening Standard
Nesbo, in his fifth, most wide-ranging novel, gradually tightens the narrative grip until, throughout the last 100 pages, the reader also finds it hard to breathe

Mark Sanderson, Evening Standard
Nesbo's plotting and pared-back prose style effectively keeps the reader hooked as he ramps up the action to a gripping climax

Big Issue
Nesbo's plotting and pared-back prose style effectively keeps the reader hooked as he ramps up the action to a gripping climax

Big Issue
A strong, pacey narrative with plenty of gruesome discoveries

Laura Wilson, The Guardian
A strong, pacey narrative with plenty of gruesome discoveries

Laura Wilson, The Guardian
Hole is all a fictional detective should be...each scene is succinct, dovetails with another, shifts the reader's perspective, and keeps the pace fast and interesting...he ensures his readers keep turning the page to read more

Times Literary Supplement
Hole is all a fictional detective should be...each scene is succinct, dovetails with another, shifts the reader's perspective, and keeps the pace fast and interesting...he ensures his readers keep turning the page to read more

Times Literary Supplement
Norwegian crime novel that's as gripping as The Silence of the Lambs

The Sunday Times
Norwegian crime novel that's as gripping as The Silence of the Lambs

The Sunday Times
Nesbo handles the tension with aplomb

Metro
Nesbo handles the tension with aplomb

Metro
Many authors know how to make the hairs on the back of your neck stand up. Jo Nesbo's one of the few who keeps them there

Linwood Barclay
Many authors know how to make the hairs on the back of your neck stand up. Jo Nesbo's one of the few who keeps them there

Linwood Barclay
The quality of the writing (and its translation) is so impressive

Literary Review
The quality of the writing (and its translation) is so impressive

Literary Review
Nesbo is shaping up to be the next big name in Scandinavian crime fiction... With its tensile-steel narrative grip, this most ambitious of Nesbo's crime novels banishes any fears that the omniscient serial killer scenario has been exhausted

Barry Forshaw, Independent
Nesbo is shaping up to be the next big name in Scandinavian crime fiction... With its tensile-steel narrative grip, this most ambitious of Nesbo's crime novels banishes any fears that the omniscient serial killer scenario has been exhausted

Barry Forshaw, Independent
With Henning Mankell having written his last Wallander novel and Stieg Larsson no longer with us, I have had to make the decision, to my own satisfaction, on whom to confer the title of best current Nordic writer of crime fiction. After finishing Jo Nesbo's The Snowman, I hesitate no longer. The Norwegian wins... This is crime writing of the highest order, in which the characters are as strong as the story, where an atmosphere of evil permeates, and the tension never lets up

Marcel Berlins, The Times
With Henning Mankell having written his last Wallander novel and Stieg Larsson no longer with us, I have had to make the decision, to my own satisfaction, on whom to confer the title of best current Nordic writer of crime fiction. After finishing Jo Nesbo's The Snowman, I hesitate no longer. The Norwegian wins... This is crime writing of the highest order, in which the characters are as strong as the story, where an atmosphere of evil permeates, and the tension never lets up

Marcel Berlins, The Times
There is no doubt in my mind that The Snowman is the best so far of Jo Nesbø's series about Inspector Harry Hole of the Oslo police... The Snowman is a complex, intellectually satisfying plot with many twists and turns... Do yourself a favour and read it

Eurocrime
There is no doubt in my mind that The Snowman is the best so far of Jo Nesbø's series about Inspector Harry Hole of the Oslo police... The Snowman is a complex, intellectually satisfying plot with many twists and turns... Do yourself a favour and read it

Eurocrime
An ingenious, bizarre and exceptional serial-killer investigation...as riveting as The Silence of the Lambs

Sunday Times Summer Reading
An ingenious, bizarre and exceptional serial-killer investigation...as riveting as The Silence of the Lambs

Sunday Times Summer Reading
Readers wondering where to turn after finishing Stieg Larsson's Millennium trilogy would be well advised to give Jo Nesbo a try. His Oslo-set thrillers about troubled detective Harry Hole feature a similar mix of icebound settings, relentless action, sexual violence and social comment

John Williams, Guardian
Readers wondering where to turn after finishing Stieg Larsson's Millennium trilogy would be well advised to give Jo Nesbo a try. His Oslo-set thrillers about troubled detective Harry Hole feature a similar mix of icebound settings, relentless action, sexual violence and social comment

John Williams, Guardian
Inventive and extremely creepy

Daily Mail
Inventive and extremely creepy

Daily Mail
My crime fiction book of the year so far

Marcel Berlins, Sunday Times
My crime fiction book of the year so far

Marcel Berlins, Sunday Times
A must-read for Stieg Larsson fans, this pacey crime thriller blends enthralling storytelling with an insightful take on controversial issues

Grazia
A must-read for Stieg Larsson fans, this pacey crime thriller blends enthralling storytelling with an insightful take on controversial issues

Grazia
Everything zips along, with some excellent red herrings in a tight plot... Nesbo keeps you turning the pages and if your idea of the perfect crime novel is to see Inspector Rebus investigating killings from The Silence of the Lambs, you'll love this

The Times
Everything zips along, with some excellent red herrings in a tight plot... Nesbo keeps you turning the pages and if your idea of the perfect crime novel is to see Inspector Rebus investigating killings from The Silence of the Lambs, you'll love this

The Times
Jo Nesbo conjures up such a gripping sense of terror in The Snowman that his tale of a perverted serial killer with a penchant for the titular figures leaves your wits scrambled

Siobhan Murphy, Metro
Jo Nesbo conjures up such a gripping sense of terror in The Snowman that his tale of a perverted serial killer with a penchant for the titular figures leaves your wits scrambled

Siobhan Murphy, Metro
One of the stars of contemporary crime fiction

Martin Josephs, The Times
One of the stars of contemporary crime fiction

Martin Josephs, The Times
Nesbo effortlessly shows what can be done with the classic detective story, employing clever tricks to maintain almost unbearable suspense

Joan Smith, Sunday Times, Christmas round up
Nesbo effortlessly shows what can be done with the classic detective story, employing clever tricks to maintain almost unbearable suspense

Joan Smith, Sunday Times, Christmas round up
Consolidated his reputation as a Scandinavian novelist ready to fill any Larsson-shaped holes. Nesbo, one ex-rock star who can write, fuses urgent storytelling with a keen engagement with social issues

Barry Forshaw, Independent, Christmas round up
Consolidated his reputation as a Scandinavian novelist ready to fill any Larsson-shaped holes. Nesbo, one ex-rock star who can write, fuses urgent storytelling with a keen engagement with social issues

Barry Forshaw, Independent, Christmas round up
A superb, tasty, huge page-turner... Seriously scary but a superior thriller

Vince Cable, Evening Standard, Christmas round up
A superb, tasty, huge page-turner... Seriously scary but a superior thriller

Vince Cable, Evening Standard, Christmas round up
My big book discovery this time was The Snowman by Jo Nesbo - it's about a Norwegian detective who has to investigate a series of gruesome murders. What could be better for holiday entertainment

Bruno Tonioli, Mail on Sunday
My big book discovery this time was The Snowman by Jo Nesbo - it's about a Norwegian detective who has to investigate a series of gruesome murders. What could be better for holiday entertainment

Bruno Tonioli, Mail on Sunday
THE NEXT STIEG LARSSON

Independent
THE NEXT STIEG LARSSON

Independent
Jo Nesbo is my new favourite thriller writer and Harry Hole my new hero

Michael Connelly
Jo Nesbo is my new favourite thriller writer and Harry Hole my new hero

Michael Connelly
[A] dark, chilling, page-turner

Deborah D. Rogers, Times Higher Education, *Summer Reads of 2021*
[A] dark, chilling, page-turner

Deborah D. Rogers, Times Higher Education, *Summer Reads of 2021*
With Henning Mankell having written his last Wallander novel and Stieg Larsson no longer with us, I have had to make the decision, to my own satisfaction, on whom to confer the title of best current Nordic writer of crime fiction. After finishing Jo Nesbo's The Snowman, I hesitate no longer. The Norwegian wins... This is crime writing of the highest order, in which the characters are as strong as the story, where an atmosphere of evil permeates, and the tension never lets up

Marcel Berlins, The Times
With his fury at official corruption, and reckless brutal integrity, this rebel Oslo cop looks well placed to secure the loyalty of Stieg Larsson fans

Boyd Tonkin, Independent
Nesbø is shaping up to be the next big name in Scandinavian crime fiction, now that Mankell is on the point of retiring and Stieg Larsson is hors de combat

Barry Forshaw, Independent
Hole is all a fictional detective should be ...each scene is succinct, dovetails with another, shifts the reader's perspective, and keeps the pace fast and interesting ... he ensures his readers keep turning the page to read more.

Times Literary Supplement
Many authors know how to make the hairs on the back of your neck stand up. Jo Nesbø's one of the few who keeps them there.

Linwood Barclay
Everything zips along, with some excellent red herrings in a tight plot...Nesbo keeps you turning the pages and if your idea of the perfect crime novel is to see Inspector Rebus investigating killings from The Silence of the Lambs, you'll love this

The Times