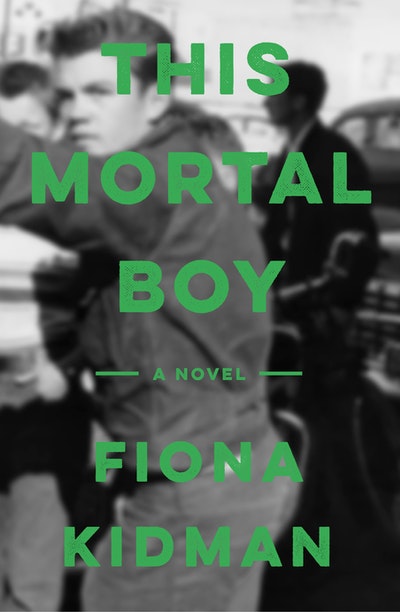 Published:

2 July 2018

ISBN:

9780143771807

Imprint:

RHNZ Vintage

Format:

Trade Paperback

Pages:

304

RRP:

$38.00
This Mortal Boy
---
---
---
A remarkable novel that won the 2019 Ockham New Zealand Book Awards Acorn Foundation Fiction Prize, the NZ Booklovers Award, the NZSA Heritage Book Award for Fiction and the Ngaio Marsh Award for Best Crime Novel.

An utterly compelling, award-winning recreation of the events that led to one of the last executions in New Zealand.
Albert Black, known as the 'jukebox killer', was only twenty when he was convicted of murdering another young man in a fight at a milk bar in Auckland on 26 July 1955. His crime fuelled growing moral panic about teenagers, and he was to hang less than five months later, the second-to-last person to be executed in New Zealand.
But what really happened? Was this a love crime, was it a sign of juvenile delinquency? Or was this dark episode in our recent history more about our society's reaction to outsiders?
Black's final words, as the hangman covered his head, were, 'I wish you all a merry Christmas, gentlemen, and a prosperous New Year.' This is his story.
'A beautiful writer' - The Times
Winner of the 2019 Ockham New Zealand Book Awards Acorn Foundation Fiction Prize, the NZ Booklovers Award and the NZSA Heritage Book Award for Fiction.
Published:

2 July 2018

ISBN:

9780143771807

Imprint:

RHNZ Vintage

Format:

Trade Paperback

Pages:

304

RRP:

$38.00
Praise for This Mortal Boy
when Kidman shows us Black at his most vulnerable, he and the novel are magnetic. His letters from prison and final visits with friends perfectly capture the dark humor, omissions and shame of young men more broken than they can admit. When his mother reaches into the pockets of his childhood jacket, remembering where his hands once were, the fabric can practically be felt through the page. There's wisdom in Paddy Black, too, as he approaches death. Humility and honor converge. The ending of a life involves decisions made by many, Kidman reminds us, with opportunities for compassion that are regularly missed until it's too late.

Damien Cave, The New York Times
Ms. Kidman, a writer much-acclaimed in her native New Zealand, deftly sketches the personalities behind the headline story, along with the ambiguities and mitigating circumstances surrounding them. She portrays the unexpected effects on myriad supporting players (jurors, prison officials, friends and lovers) and the internal punishments inflicted upon all but the hardest-hearted. And, in the emotional catharsis experienced by the imprisoned Paddy Black, she demonstrates how redemption may be grasped even at the final hour of the darkest day.

Tom Nolan, The Wall Street Journal
Kidman's prose is precise, detailed, lyric. . . She knows what to take out and what to leave in, the innate forensics of good writing turning up all the right things in the research, the facts, the giveaway phrasings, the oratory, . . . The fluencies and hard-won command of a good writer bring out their own truth.

Eoin McNamee, The Irish Times
In her latest novel, Dame Fiona Kidman takes us deep inside a case that caused plenty of controversy at the time, more than 60 years ago, and has left lingering questions to this day. . . . Kidman richly and eloquently brings the world of mid-1950s New Zealand to life. . . . The characterisation is equally textured. Kidman doesn't just take readers into the courtroom or the viewpoints of main players - killer and victim, lawyers and judge - but goes broader and deeper. We get a holistic view of a life summarised by history as a single violent act. Or two. . . . Everything flows throughout shifts in time, place and perspective. This is a tale about violent acts that is infused with humanity and compassion. And although it may be set more than half a century ago, there's a lot here that seems relevant to our modern times.

Craig Sisterson, NZ Listener
I always look forward to the newest title by Dame Fiona - and there has been an extensive list to read. Her honourable title is well deserved and she is ranked amongst the best in New Zealand authors. I particularly like her blend of fiction set against a social snapshot of a bygone era in New Zealand. . . . Dame Fiona has created a full context - all aspects of the complete story from 'who Albert Black was', where he came from, who did he meet here, who were his friends and what was his character like before darkness shadowed his life? This is what makes this new book so riveting - she adds his mother's story in Ireland and the reaction of his family from the charges through to court e case and death. It's a story that will make you think and ponder the circumstances. It will make you consider the politics at the time and was it a social reaction to those from outside our nation's borders. A truly rewarding read and one I will think about for a long time to come.

Wairarapa Times-Age
Kidman's story, beautifully and clearly laid out, is of an outsider, recently arrived here. A bit of a mother's boy from Protestant Belfast, he is lost and homesick. He falls in with the wrong crowd after he moves to Auckland. . . . We have come to expect a high level of research in Kidman's novels. She does not disappoint here. . . . The most impressive aspect of this deeply moving novel is Kidman's control of the facts. She lets them speak for themselves. She does not sentimentalise Black or his situation. Nor does she condemn the judge or jury. That heightens the strength of this expose of the vulnerability of capital punishment to the pressure of public opinion, and of its ineffectiveness as a deterrent.

Steve Walker, Sunday Star-Times
Fiona Kidman has written this novel based on real life in her signature style: believable, insightful and about us. . . She captures the mindset of New Zealand citizens at a time when old ways were being challenged by new. . . . This is an important book which reminds us of the fragility of youth and how devastatingly lives can be altered by a moment's action.

Australian Women's Weekly
Fiona Kidman is adept at casting her imagination into the past and bringing to life significant characters and times. . . . An engaging aspect of this novel is Kidman's portrayal of the wide circle of individuals who are affected by Black's conviction and trial. . . . Kidman has created a fictional jury that also draws on her own experience sitting on a jury to show how entrenched attitudes and prejudices might lead to a young man being convicted of murder. It's bloody convincing. The courtroom scenes are also moving . . . This very human novel is as good an argument as you'll ever find for the abolition of capital punishment.

Tina Shaw, Spinoff
The vividly drawn fictional members of the jury reflect various prejudices of the day. Kidman is also sensitive to the social niceties of a more courteous time . . . In the process of recounting this moving story, Kidman has also given the lie to the oft repeated claims that the 1950s were a pallid and passionless decade.

Paul Little, North and South
As Kidman eloquently shows throughout, mid 1950s New Zealand was a politic conservative place, a country still recovering in a way from the losses and scars of the Second World War. . . . Kidman delivers rich characterisation, not just from the viewpoint of Paddy Black, but of many others associated with his short life and sudden end. . . . THIS MORTAL BOY doesn't just take us into the courtroom, or recreate the main events that led to two deaths, but goes much broader and deeper. Kidman gives us a textured, holistic view on a life that was more than a symbol, or an entry in a history book. . . . While we're taken through varying times and perspectives, Kidman keeps everything flowing beautifully. It never feels 'jumpy' or disjointed, instead it's a story that builds in depth and texture. A harrowing and haunting tale that is full of humanity. . . . This is an exquisitely written novel from a master storyteller; an important and fascinating read.

Craig Sisterson, Kiwicrime,blog.com
Like Hilary Mantel, she writes with acute observation and attention to detail, getting inside the skin of her characters to establish a deeper truth about their thoughts and feelings than any official record can.

Janet Wilson, NZ Books
Listener Best Books of 2018: A haunting novel full of humanity from a doyenne of Kiwi lit who goes beyond the 1950s headlines of the "jukebox killer" to explore the life and death of Albert "Paddy" Black, one of the last people in New Zealand sentenced to hang.

NZ Listener
Fiona Kidman's marvelous new novel features Albert Black – the 'jukebox killer' – the second-to-last person to be hanged in New Zealand. . . . I knew the ending but I kept hoping the Irish mother or the anti-hanging supporters would change the outcome. Not possible. So I read the novel – so beautifully detailed, so alive in rendition – in a state of sadness at human behaviour. . . . I also absorbed the pulsating life Fiona created. The dialogue, the characters, the locations, the signs of the times – these all work to make a sumptuous depiction of a particular place in a particular time. I just loved it. . . . This is the kind of book that makes you reflect deeply upon how we do things today – how our prison system works to advantage or disadvantage, how difference still contributes to a lack of societal or cultural privilege. Some books stick to you. This compelling novel is one of them. Beautifully crafted, meticulously researched, with ample attention to the grittiness of life and both the kindness and cruelty of people. I adored it.

Paula Green, nzpoetryshelf.com
Kidman . . . has performed in The Mortal Boy a terrific feat of imagination. . . . This Mortal Boy is to be praised for its sustained storytelling and moral vision.

Mark Broatch, Landfall
Although the novel takes place in New Zealand in late 1955, the issues it portrays are germane to the more than 50 countries where the death penalty still exists today – where more than 60 per cent of the world's population lives. What's remarkable about this book is how Kidman brings forth issues like specimens under a strong light, showing them in all their complexity, with all their shadows and brilliance, without ever preaching or becoming polemical. You are reading a compelling story, not an essay.

Vicki Weisfeld, CrimeFictionLover.com
As ever, Kidman has written a novel that is believable, revealing, and insightful about our country.

Diane McCarthy, Eastern Bay Life
A really stunning novel . . . a really great example of fact-based fiction and what she does here is put a human face to a historical event . . . what she's so skilfully done is bring together a multi-voiced narrative from multiple perspectives . . so it's extremely gripping from all these angles and I just think it's a really truly fascinating insight into New Zealand's social and cultural history . . . it's a very human account and its very beautifully written . . . very compelling.

Kiran Dass, Radio NZ
What an excellent book. Fiona Kidman certainly knows how to weave a story, keeping the action moving and gripping the reader. The achievement is even more extraordinary in this case because you know the final outcome right from the beginning. . . . This has to rank as one of the best books of 2018 in New Zealand. Fiona Kidman guides us towards feeling that there was a miscarriage of justice, too many factors not taken into account before Albert Black was put to death, but all we can do is wonder if capital punishment was ever the right course of action.

Marcus Hobson, NZ Booklovers
This is a well-crafted story which is gripping to the very end.

Nan Turner, The Reader, Booksellers New Zealand
This novel is a portrayal of a real event in New Zealand, one of the last times the death penalty was invoked. Set in the 1950s, the social climate of the time is beautifully portrayed – conservative, prejudiced against immigrants, and suffering from an upsurge in juvenile delinquency. It is very easy to engage with the characters, especially the central figure, Arthur Black. In 1950s Auckland Arthur's unfortunate liaisons lead him to a situation which gets out of control. Is he a victim of prejudice and a miscarriage of justice? A well-crafted story that perfectly fits our brief of a book that celebrates the best in storytelling, a book we couldn't put down.

Award judges, NZ Booklovers Award 2019
I have read some wonderful novels this year - one or two would be among the best I have ever read in a lifetime of reading. I'll mention them in the order I reviewed them and then pick out my favourites. . . . One of New Zealand's best writers, Dame Fiona Kidman's latest novel is a masterpiece and won the Fiction Prize in the Ockham NZ Book Awards 2019. It is a rattling good read, based on the true story of the second last man to be hanged in New Zealand, in 1955, with Kidman imagining the facts she couldn't find out after researching the case thoroughly.

Waiheke Weekender
It's an amazing novel, this. It's compelling

Val McDermid
An essential read as a study of wrong choices, ambiguous motives, infinitely nuanced personalities and a grim complex tragedy of a loner . . . A tremendous novel.

Arts Council of Northern Ireland
NZ Heritage Book Awards
Winner • 2018 • NZSA Heritage Awards
Ngaio Marsh Award for Best Crime Novel
Winner • 2019 • Ngaio Marsh Award
NZ Booklovers Award
Winner • 2019 • NZ Booklovers Award
Ockham New Zealand Book Awards
Winner • 2019 • Acorn Foundation Prize
International Dublin Literary Award
Longlisted • 2020 • Dublin Literary Award
Article
Article
This Mortal Boy - book club guide
Incredible NZ author and Ockham 2019 Award Winner Dame Fiona Kidman shares some thoughts and questions to get the ball rolling in a book club discussion for This Mortal Boy.
Article