Dame Fiona Kidman has won this year's $53,000 Acorn Foundation Fiction Prize at the Ockham New Zealand Book Awards for her novel, This Mortal Boy.
Our warmest congratulations to Dame Fiona Kidman, who has made us incredibly proud, receiving New Zealand's richest literary award, the Acorn Foundation Fiction Prize.
This Mortal Boy received the honour ahead of a strong line-up of finalists comprising Lloyd Jones (The Cage) a Penguin Random House title, Kate Duignan (The New Ships) and Vincent O'Sullivan (All This by Chance) at the Auckland Writers Festival marquee event held in the Aotea Centre on Tuesday 14th May.
Head of Publishing Claire Murdoch says, 'Penguin Random House New Zealand is truly delighted for Fiona. Her powerfully voiced, haunting novel has already gripped the public imagination — but this award is a particularly meaningful tribute to one of New Zealand's finest and most respected fiction writers and her work with her publisher of more than 30 years, our own Harriet Allan. We commend all of the finalists and thank the sponsors Ockham and Acorn and the NZ book awards trust.'
Dame Fiona's publisher, Harriet Allan, who received a special thank-you in Fiona's speech says, 'I am thrilled for Fiona. She has been peeling back the lives of New Zealanders for over forty years, giving us superb novels, short stories, poetry, non-fiction, and plays. This Mortal Boy is no exception: it is insightful, moving, vivid and compelling. I am so proud to be her publisher.'
Carrie Welch, Harriet Allan and Dame Fiona Kidman at the 2019 Ockham Awards
This year's fiction category judges had extraordinary words to say about Fiona's work;
'In This Mortal Boy, Fiona Kidman has written an intensely human and empathetic story, recreating the events leading to the real-life hanging of 'jukebox killer' Paddy Black at Mount Eden prison in 1955. With seeming effortlessness, she pulls the reader into mid-century New Zealand – the restlessness of a new urban youth culture, the moral panic that led to the Mazengarb report, the damning assumptions of the legal profession and the unchallenged omissions that eased the pathway to a young man's death.'
We also wanted to take this opportunity to congratulate Lloyd Jones for his shortlisting and all of the Penguin Random House authors who were longlisted for The Ockham 2019 Awards — Rajorshi Chakraborti, Charlotte Grimshaw and Tina Makereti — whose terrific novels are pictured with the Acorn Foundation Fiction winner, This Mortal Boy by Dame Fiona Kidman.
---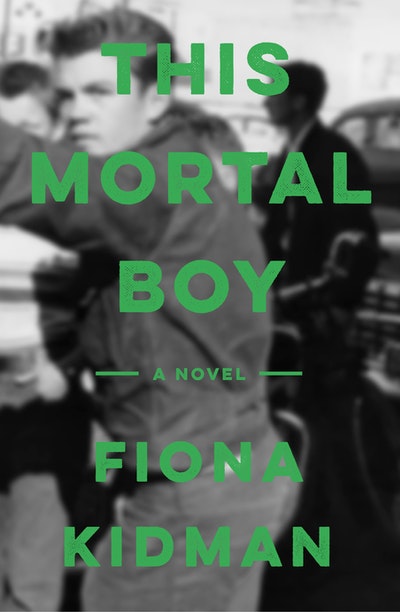 A remarkable novel that won the 2019 Ockham New Zealand Book Awards Acorn Foundation Fiction Prize, the NZ Booklovers Award, the NZSA Heritage Book Award for Fiction and the Ngaio Marsh Award for Best Crime Novel.
Buy now
Buy now
---