These little meatballs have a great flavour to them and can also be served as a canapé with the yoghurt dressing – just serve on a platter with toothpicks and the dressing in a little dipping bowl to the side. The meatballs can also be frozen once rolled, so it's great to make up plenty of them and have some in the freezer to call on for an easy week-night dinner.
SERVES 6–8
Lemony Lamb Meatballs
MAKES APPROX. 40 MEATBALLS

½ cup fresh breadcrumbs
¼ cup milk
500g lamb mince
2 tsp cumin seeds, toasted and ground 
2 cloves garlic, finely chopped
½ cup grated Parmesan
2 tbsp preserved lemon, skin only, finely 
chopped
¼ cup finely chopped mint,
plus extra to serve flaky sea salt and freshly ground black pepper
2 tbsp olive oil

Combine the breadcrumbs and milk in a bowl. Set aside for 5 minutes to soak.

Place the lamb mince, cumin, garlic, Parmesan, preserved lemon and chopped mint into a bowl. Season well and then add the breadcrumb mixture and combine well. Roll the lamb mixture into 3cm balls and place onto a plate. Cover and refrigerate for 20 minutes to firm up, or freeze for later.

Heat the olive oil in a large frying pan over medium-high heat. Cook the meatballs, in batches, turning every couple of minutes for 4–5 minutes until browned all over and cooked through. Keep warm in a low oven. 
Asparagus and Green Bean Salad
12 spears asparagus, cut in half diagonally 250g green beans, trimmed
4 tbsp extra-virgin olive oil
2 tbsp preserved lemon, skin only, finely 
chopped
1 red chilli, finely chopped
3 cloves garlic, finely chopped
¼ cup pine nuts, toasted
Blanch the asparagus and green beans in a large pot of salted boiling water (do this in small batches). Remove when just tender, and drain well. Put into a large bowl and repeat until all of the vegetables are cooked.

Meanwhile heat the oil in a small pan over medium heat along with the preserved lemon, chilli and garlic. Cook until the garlic is soft and then season well with salt and pepper. Pour the warm dressing over the greens and mix very well to make sure all of the veggies are coated. Sprinkle with the pine nuts just before serving.
---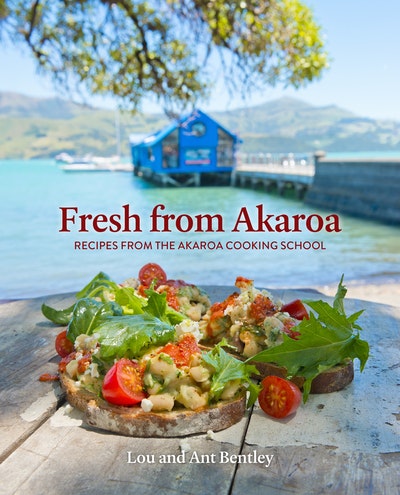 Recipes and tips from the highly popular Akaroa Cooking School - plus the stunning scenery of Banks Peninsula.
Buy now
Buy now
---