We ate many dishes similar to this while spending time in Italy and they were all different depending on the part of Tuscany that we were in. This is our version of a Tuscan chicken casserole and it's very moreish and flavoursome. I love it in the winter and any leftovers get tossed through some pasta the next day.
SERVES 6
Ingredients: 
4 tbsp olive oil
6 free range chicken Marylands (leg and thigh pieces)
flaky sea salt and freshly ground black pepper 4 thin slices prosciutto (or substitute smoked bacon rashers)
10 mushrooms, finely sliced
1 onion, finely sliced
4 cloves garlic, finely chopped
2 tsp Spanish smoked paprika
2 tbsp tomato paste
100ml white wine
400g vine tomatoes, chopped, or 400g tin cherry tomatoes
400g cooked cannellini beans, drained 250ml chicken stock
2 tbsp capers
3 bay leaves
3 tbsp freshly chopped rosemary
3 tbsp freshly chopped thyme leaves
1⁄4 cup roughly chopped flat-leaf parsley
Method: 
Preheat the oven to 180°C.
Heat a large casserole dish with 2 tablespoons of olive oil over medium high heat. Add the chicken (in batches depending on the size of the pan), season with flaky sea salt and black pepper and brown the chicken pieces on all sides for 3–4 minutes, until golden. Transfer to a plate and set aside.
Place the prosciutto into the pan and cook until crispy, then remove from the pan and break or cut into pieces. Add the mushrooms with a little more oil, if needed, and fry in batches until soft and golden brown. Set aside.
Reduce the heat to medium-low and add the onion to the pan. Slowly sweat down until
soft. Add the garlic and cook for a further few minutes. Return the mushrooms and proscuitto to the pan, and stir in the paprika and tomato paste. Turn up the heat, add the wine and let it sizzle for a few minutes, until reduced. Add the tomatoes, cannellini beans, stock, capers, bay leaves, rosemary and thyme. Bring to the boil and then add the chicken along with any resting juices. Cover and transfer to the oven with the lid on. Cook for 1 hour or until the chicken is very tender and the sauce has reduced.
Remove from oven, sprinkle with chopped parsley and check the seasoning. Serve with creamy mashed potatoes or orzo.
---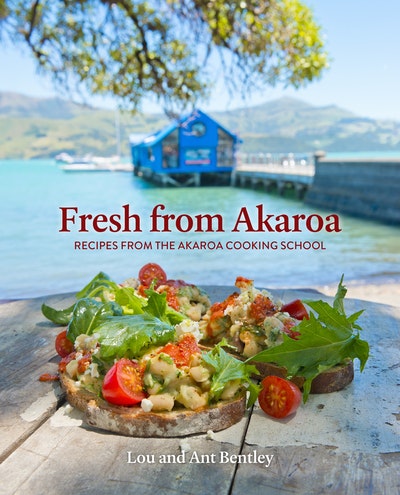 Recipes and tips from the highly popular Akaroa Cooking School - plus the stunning scenery of Banks Peninsula.
Buy now
Buy now
---