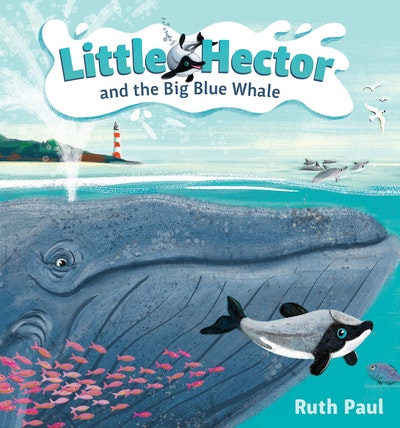 Published:

3 September 2018

ISBN:

9780143771524

Imprint:

Picture Puffin

Format:

Paperback

Pages:

24

RRP:

$18.99
Little Hector and the Big Blue Whale
---
---
From award-winning picture book creator Ruth Paul comes a new series about a plucky dolphin called Little Hector and his BIG adventures.
A gorgeous new picture book for young children to find out all about the tiny and endangered Hector's dolphin.Introducing . . . Little Hector!
A small but daring dolphin, Little Hector swims out into the deep blue ocean. He meets many dangers — and an unlikely friend — and proves you are never too small to have BIG adventures.
Children will love meeting Little Hector and his friends, and will also learn how we can help to look after our precious marine environment and its inhabitants.
Published:

3 September 2018

ISBN:

9780143771524

Imprint:

Picture Puffin

Format:

Paperback

Pages:

24

RRP:

$18.99
Praise for Little Hector and the Big Blue Whale
Ruth Paul always seems to manage cute and endearing in equal measure and Little Hector and the Big Blue Whale is a perfect example of this...There is a lot for little ones to look at in the illustrations, even when Hector is all alone in the ocean the reader can see ships and marine life in the distance. The little, varied fish tell a story of their own – they are swimming past in schools, eating smaller fish and generally getting on with fishy things. Each fish, no matter how tiny seems to have a unique expression. Ruth Paul's ocean is a busy and interesting place. This is a very sweet read for little ones who can all relate to Hector, being squitty and all. And on the back page, we find some facts about Hector's dolphins as well, and these are simple and informative. But best of all? The word squitty….

Simie Simpson, The Sapling
A delightful picture book that includes seals, sting-rays, orca and the blue whale within our New Zealand sea to educate your little family members – along with a language rich tale.

Sue's Reviews, Wairarapa Times-Age Weekend
Little Hector and the Big Blue Whale is a wonderful new book that teaches children about the rare Hector's dolphin. Children will love reading all about Little Hector's big adventure into the deep sea and meeting all his marine friends. I can't wait to read about Little Hector's next adventure!

Alana Bird, The Reader
both a delightful story of an adventurous little dolphin and a book that could launch an inquiring young mind into an exploration of our marine environment and its inhabitants.

Trish Nash, Corinna School, Book Council of New Zealand
This is a charming story, with a subtle moral.

Trevor Agnew, Agnew Reading
Children will love meeting Little Hector

Fennec and Friends Book Club
fun to read out loud

Lyn Potter, Grownups.co.nz
This is a story of kindness and caring for others. The artwork is gorgeous...Highly recommended

Margaret Kedian, Magpies
For our children to understand our place in the world, they need to see their world reflected back at them. Little Hector takes one small part of Aotearoa's uniqueness and allows young readers to recognise the importance of our natural environment. A cute wee book with an important message on many levels.

Rebekah Fraser, NZ Booklovers
Children will enjoy this gentle story of self-acceptance, which is enhanced by lively illustrations. The non-fiction back matter is a nice addition, detailing facts about the Hector's dolphin and highlighting its plight as an endangered species.

Emma Wood, Otago Daily Times
Article
Article
Where I work from: Ruth Paul
We love seeing the work spaces of creative folk. Join us as award-winning picture book creator Ruth Paul invites us into her studio for a nosy around!
Article
Help Little Hector!
How to support the conservation of Hector's Dolphin with Little Hector and the Big Idea.