We love seeing the work spaces of creative folk. Join us as award-winning picture book creator Ruth Paul invites us into her studio for a nosy around!
Thanks for taking the time to show us where you work from, what a lovely studio! Can you tell me the story of your relationship with this space? 
My studio is a room off our garage, and the room we raised our first son in until he was two. It was our first experiment with strawbale construction so has lovely soft plaster walls without many straight lines!
I've spotted a number of interesting nicknacks in these pictures, what's your favourite object in your studio and what's the story behind it? 
One of my favourite items these days is an old picture I was given many many moons ago when I worked on a NZ TV programme called Close to Home. It is the opening credit with the type lettrsetted on to the illustration -- a reminder of how programme credits were made in pre-digital times. I feel it is a fun little piece of both my, and New Zealand TV history. I also have all my favourite picture books, some of my boys early drawings, old illustrations, a radio, an iphone dock and tools of the trade. Usually it's very messy.  
What do you find most inspiring about your space?
The most inspiring thing about my workspace is that it is a room of my own, and I can shut the door on it - both to keep intruders out, and sometimes to keep myself from going back in. Creative projects often benefit from enforced time-out because when you can come back after a break you can see the work with fresh eyes.
If you could work from anywhere else, where would it be?
If I could work from anywhere else it would be … a warm room in an old castle that has been redecorated by expensive and slightly mad Italian designers with no budget limitations. 
Introduce us to your furry friend! Is he a constant companion while you work?
His name is Teddy. He is very needy and demanding, but also one of the smiliest dogs I have ever known. He is not usually allowed in my studio because he chews up paper and leaves fur everywhere - and I make quite enough mess without him. But he does tend to sneak in when I'm not looking. He thinks if he shuts his eyes and lies very still that I won't see him. Not the smartest dog - but having said that, he has worked out how to open doors! 
And finally, your latest book, Little Hector, was brought to life in this studio—can you tell us where the inspiration for him came from?
Little Hector was a timely idea as the Hector's Dolphin needs all the help it can get right now. Building awareness that threatened species such as the Hector's and Maui's Dolphins in New Zealand is important to do from a really young age, and I hope this character will help with that. The first book in the series was illustrated in this studio, and I believe Teddy thinks he is co-author as he slept under my desk for a lot of it. I aim to pay him for his contribution in bones. 
---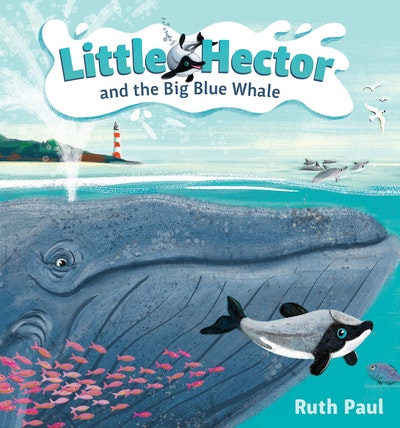 From award-winning picture book creator Ruth Paul comes a new series about a plucky dolphin called Little Hector and his BIG adventures.
Buy now
Buy now
---