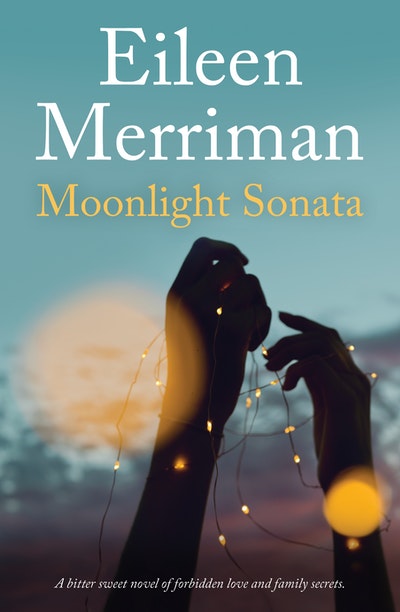 Published:

2 July 2019

ISBN:

9780143773450

Imprint:

RHNZ Black Swan

Format:

Trade Paperback

Pages:

288

RRP:

$38.00
Moonlight Sonata
---
---
---
Will the truth be revealed?
A bitter-sweet novel of forbidden love and family secrets.
'Some secrets should never be told.'

It's the annual New Year family get-together. Molly is dreading having to spend time with her mother, but she is pleased her son will see his cousins and is looking forward to catching up with her brothers . . . Joe in particular.
Under the summer sun, family tensions intensify, relationships become heightened and Molly and Joe will not be the only ones with secrets that must be kept hidden.
'No one must ever know.'
Published:

2 July 2019

ISBN:

9780143773450

Imprint:

RHNZ Black Swan

Format:

Trade Paperback

Pages:

288

RRP:

$38.00
Praise for Moonlight Sonata
Don't let the moodily lit and ever-so dreamy cover fool you - it well and truly belies the intensity and edginess of New Zealand author Eileen Merriman's latest skilfully crafted novel. . . . Moonlight Sonata is her first book for adults and here she strengthens the provocative, well-paced writing she's becoming widely known and regarded for. . . . Moonlight Sonata is about incest but not sexual abuse. On the contrary, this is possibly even more sensitive, complex and taboo territory because it's about consequences of attraction between consenting adults. Who happen to be related. . . . the plot is propulsive . . . She also knows what it takes to get a heart beating and breaking. Here, Merriman deftly shows the all-too-human dilemmas involved, the very real emotions and difficulties inherent in this situation. Only the most hard-hearted of reader would fail to be moved by what goes on - and has gone on - and only the most disciplined of readers will put the book down and turn the light off at a sensible time of night.

Dionne Christian, Weekend Herald
. . . it's well written, it's fast paced, it's intense, it's one of those books when you don't notice the prose you just go with it . . . it is a very good read. I think her fans won't be disappointed, I think she will find a new audience with this novel, she retains the best of her YA writing in that perspective of people on the cusp of adulthood leaving childhood behind, coming to grips with a world which had seemed so attractive and yet gets more and more complex the closer you get to it.

Louise O'Brien, Radio NZ
While it is up to Merriman's usual standard of carefully layered and thoughtful drama, with beautifully observed and believable Kiwi characters, it begs the question of what compelled her to write on this most taboo of subjects.

Diane McCarthy, Eastern Bay Life
The interactions between them [the characters] are compelling, particularly as they become more intense and disturbing. The tension mounts as the story travels back and forth from Molly's childhood to the present day. Having several characters tell the story heightens the complexity, creating layers, building tension. The pivotal emotions are those of love and foreboding. Merriman does an excellent job of concealing the dreadful climax until the end, a climax that when it happens, feels entirely right.

Anne Stevens, Otago Daily Times
The writing has something of both the density and the understatement of poetry, with close attention to things happening just out of sight, beneath the surface of experience. Old memories share space with new excitements in a carefully crafted sub-text, leaving the merest sign that they are there. . . . The sea—quixotic and dangerous yet familiar enough to dispel anxiety—is the perfect metaphor for a world where uncertainty is normal, in both present and past. . . . Merriman has taken the star-crossed lovers theme and doubled it, over two generations, using nature as a shifting complex of metaphors for emotional states, as Mansfield did, and Dickens before her. She has a gift for character drawing and, even more, for landscape painting. What seems 'utterly real' is, of course, a very clever web of fabrication that draws us into conundrums we might never have been asked to contemplate, but gives us enough faith in people's love for one another to find a way through.

Helen Watson White, Landfall
Ockham New Zealand Book Awards
Longlisted • 2020 • Acorn Foundation Fiction Prize
Article
Moonlight Sonata - book club guide
Eileen Merriman shares discussion points, ideas and questions for Moonlight Sonata - Book Club Guide. Moonlight Sonata is Eileen Merriman's first adult book, it is a bitter-sweet novel of forbidden love and family secrets. Some secrets should never be told... will the truth be revealed?