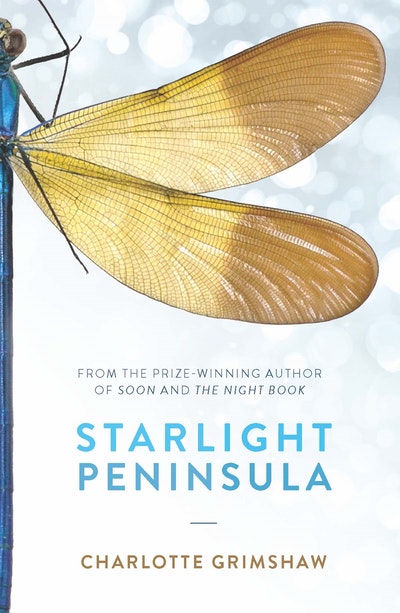 Published:

24 June 2015

ISBN:

9781775538233

Imprint:

RHNZ Adult ebooks

Format:

EBook

Pages:

352
Starlight Peninsula
---
---
---
'it is discomfiting, often challenging and always brilliant' - NZ Listener
The latest enthralling novel from the author of The Night Book and Soon.
Eloise Hay lives on the Starlight Peninsula. Every weekday she travels into the city to work at Q TV Studio, assisting with the production of a current affairs show. One night she receives a phone call that will change her life forever.
Thrown into the turmoil of a sudden marriage break-up, Eloise begins to perceive that a layer of the world has been hidden from her. Seeking answers, she revisits a traumatic episode from her past, and in doing so encounters an odd-eyed policewoman, a charismatic obstetrician, a German psychotherapist, and a flamboyant internet pirate wanted by the United States Government. Each of these characters will reveal something about the life of Eloise Hay, answering questions that she hasn't, until now, had the courage to ask.
Tracing the lines that run through our society, from the interior life of one lonely young woman to the top tier of influence in the country, Charlotte Grimshaw's powerful novel demonstrates how little separates us and how close we really are: rich and poor, famous and hidden, virtuous and criminal.
Longlisted for the Ngaio Marsh Book Awards: 'A masterclass in how to write a potentially unreliable and disconcerting central character . . . An exquisitely calibrated examination of truth and consequence, and a superb crime story.'
Published:

24 June 2015

ISBN:

9781775538233

Imprint:

RHNZ Adult ebooks

Format:

EBook

Pages:

352
Praise for Starlight Peninsula
It's thrilling for me to see the things that seem so wrong in this country coolly reflected in these books. The lack of outrage is also refreshing: any political agenda feels like it belongs to the characters, not the author. The books act like a mirror, perhaps the most powerful tool at this political moment of shouting and polling. The mirror won't argue, can't argue, just shows. The other thrill of these books, and Starlight Peninsula in particular, is the craft of storytelling. . . some of the most thrilling and nail-biting reading I've done.

Pip Adam, Metro
Charlotte Grimshaw's fascinating new novel Starlight Peninsula sees her take on a role somewhere between novelist and commentator. Using the dirty politics of our recent times as material, the book is a thoughtful conversation about the idea of truth in contemporary New Zealand society, both big and small, in lives both private and public, and specifically in politics and the media. . . Eloise's questions are acts of great courage and duty. Hers are problems of Shakespearean proportions, set amid the toetoes within earshot of cicadas during the internet age. Grimshaw's Auckland is a formidably complete world, detailed and concrete . . . This is one of those books that to like, or even describe as enjoyable, is almost to miss the point. It's a clever puzzle that the reader is invited to think through and then reflect - uncomfortably - onto their own world. Starlight Peninsula is at its best when it makes its reader uneasy; it is discomfiting, often challenging and always brilliant.

Louise O'Brien, NZ Listener
This stunning novel not only brings an authentic conclusion to the knotted lives of its knotted characters, but also continues to provide the ''star spangled Kiwi metropolis'' slant Grimshaw brings to the epic contemporary serial. Whether Grimshaw is writing about Parnell or Mount Eden, her prose sparkles. She knows how to write identifiable landscapes, filling them with energy, unsettlement, shape and sentience. Auckland resident Grimshaw imparts an intimacy with the environs she evokes here. . . . Conspiracy, duplicity, notoriety, ambiguity, agony, loss, romance and catharsis: Starlight Peninsula charts all the thematic complexities of its predecessors, while offering the kind of astute political and psychological mystery which can be read as a standalone work for readers unfamiliar with Grimshaw's previous books. . . . I'm certain readers, proven to be passionate about this mixed-up community, will be begging Grimshaw not to close the door just yet on their fame, flaws and downfalls.

Siobhan Harvey, Dominion Post Weekend
I found Starlight Peninsula a delight to read on a number of levels. I enjoyed the way that the plot kept things moving along at a good pace. . . . The location and the setting, in and around Auckland, and in particular the Peninsula of the title were both characters and settings. . . . The other characters in the book were a fine selection. . . . There were some lovely touches of humour and parody, and I laughed out loud as Eloise asks some obvious question or battles with quirky friends and difficult family at the same time as reading Chekhov's story The Black Monk, where the monk is visible only to Kovrin who remains convinced of his reality. I hope, like some of the other characters, that Eloise will have a life longer than one book, I would like to meet her again.

Marcus Hobson, http://www.nzbooklovers.co.nz/book-reviews/general-fiction/starlight-peninsula-by-charlotte-grimshaw/
Starlight Peninsula is a great comment on our current political times – it talks about involuntary behaviour, individuals who think they are making decisions but who are actually acting according to group dynamics – Eloise even ends up researching mass hysteria. 'I just want to be able to say I asked' – but when we get the information what do we do with it?

alysontheblog, https://alysontheblog.wordpress.com/
Charlotte Grimshaw's mind is a delightful thing. Her ability to seamlessly develop minor characters from prior novels and re-imagine real-life events is brilliantly evident in this companion novel to Soon. . . . Once again, Grimshaw has skilfully tackled this difficult genre to produce a well crafted, intriguing story with expertly developed characters, beautifully described landmarks and cultural references Kiwi readers will easily recognise

Australian Woman's Weekly
I would read and treasure this book just for the portrait of Demelza . . . no previous experience is necessary to enjoy its acute observations and dry humour. It's a knowing book alert to all evidence of human follies and the obfuscations people use to get through life.

Paul Little, North & South
Starlight Peninsula is the beguiling new novel from celebrated writer Charlotte Grimshaw. The author uses instantly recognisable characters and scenarios from recent events in New Zealand politics and media to create a tale of power and influence, as well as an enthralling glimpse into the mind of a lost woman. . . . Every character is like a small, perfect portrait, and the stunning writing creates an atmosphere of dreamy mystery.

Ngaire Atmore, Herald on Sunday
It's difficult to capture what exactly makes Grimshaw's writing so distinctive and penetrating. It is spare yet sparkling, unshowy, surgically precise. She seems to dig, word by word, into the heart of what it means to be human, using language both lyrical and muscular: "there were diamonds of light on water shirred by the breeze that smacked down and spread like a hand pressed on the surface." . . . An exquisitely calibrated examination of truth and consequence, Starlight Peninsula is the kind of novel that burrows under your skin and won't come out.

Stephanie Jones, Coast
Grimshaw winds up her deliciously satisfying five-part series which has evolved around a small group of often clearly identifiable characters . . . As with Eloise's assessment of Hallwright, the book packs in "layers of cunning and guile".

Linda Herrick, Weekend Herald
This new thoroughly enjoyable book by Charlotte Grimshaw revisits characters from some of her earlier novels, while introducing us to fresh, fascinating ones. . . . A clever, witty and complex book.

Christine Edmunds, Northern Advocate
This is Auckland in 2015, with all its cynicism and first-world neuroses, the age of celebrity, Whale Oil, conspiracies and property speculation. Her writing is relevant because she shows us a mirror of our society with its nebulous links between politics, the media and, possibly also, crime. It might not be pretty, but it's compelling and worth staying with to the end.

Cliff Taylor, New Zealand Doctor
a terrific, tense story in a strikingly local landscape.

Sarah Ross, NZ Books